Castleknock golf club
Dublin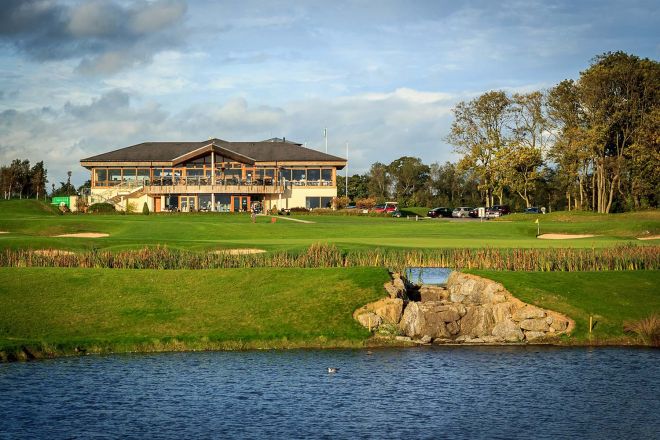 Castleknock Golf Course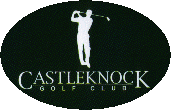 In the grounds of Sommerton House in County Dublin built into a mature parkland. The Course has been built to USGA standards and is playable all year round due to superb drainage irrigation built under the course.
There are 10 Acres of Lakes which come into play on 7 Holes, in fact the 16thand 18thpar 3's are played right over lakes.
Castleknock Golf Club the driest parkland course you'll play. Open all year round with no mats or temporary greens, if other courses are closed we are open. Our greens are constructed to the highest USGA recommendations and are subtly contoured and seeded with creeping bentgrass allowing for fast greens all year round.
Just 20 minutes from Airport and 7km from the city centre, adjacent to Dublin's famous Phoenix Park, with spectacular views overlooking Liffey Valley and the Dublin Mountains Castleknock Golf Club is Dublin's finest golfing address.
There is a chipping green of 800 sq.metres and a practice green of sq. 1,000 metres.
Castleknock was voted the No. 99-ranked golf course in Ireland, by "Golf Digest Ireland" in 2012;
Castleknock was voted the No. 63-ranked golf course in Ireland, by "Golf Digest Ireland" in 2009;
Castleknock was voted the No. 74-ranked golf course in Ireland, by "Golf Digest Ireland" in 2008;
Golf Deals » Castleknock

Stay & Play @ Castleknock Hotel & Country Club

€179.00

Offer valid from 01 Apr 2019 to 31 Oct 2019

Detail:



This one night Golfers Midweek Package includes:
* One night accommodation
* Full Irish Breakfast
* Complimentary Parking
* One game of golf per adult in Castleknock Golf Club located onsite
*Complimentary use of our Leisure Centre
*24 hour cancellation policy prior to arrival
| | |
| --- | --- |
| Green Fees Mon. to Thurs: | €25 |
| Green Fees Weekends & B. H.: | €40 |
| Green Fees Sunday: | €60 |
| Green Fees with a Member Weekdays: | €29 |
| Green Fees with a Member Weekends: | €39 |
| Green Fees for Opens: | €30 |
| Practice Area: | Yes |
| Club Hire: €40 | Yes |
| Buggy Hire: €30 | Yes |
| Soft Spikes: | Yes |
| Open For Membership: | Yes |
| Full Membership Fee: | €1,850 |
| Full 5-Day Membership Fee: | €715 |
| Full Student 18-22 Membership Fee: | €410 |
| Full Junior 15-17 Membership Fee: | €255 |
| Full Juvenile 8-14 Membership Fee: | €200 |
Director of Golf:
Warren Ryan

Captain:

Joseph Lavelle

Lady Captain:

Linda O'Keefffe

President:


Vice-Captains':
&

Hon. Secretary:

Jim Renynolds

& Vivien Lee

Club Pro:
Hugh Feeney

Hon. Treasurer:

Pauric Glennon

& Ann Robinson

Comp. Secretary:
Liam Maher & Sinead Corley

Location Map
GPS Coord*
Lat:53.366123
Long:-6.403613
*Please check information before travelling
General Facts & Information
| | |
| --- | --- |
| Course opening hours: Daylight hours | Clubhouse opening hours: 8.00am to 11.30pm |
| Mobile phones: Not on course | Dress Code: Neat and casual, no denim |
| Catering: Full catering, facilities | Days to Avoid: None |
| Green Fees and Societies Welcome: Other Days | Pre-booking for open Tournaments: 14 Days in advance |
Castleknock Golf Club Fixtures 2020 provisional*
| | | | | |
| --- | --- | --- | --- | --- |
| Open & Major Fixtures 2020 (to be Confirmed) | | | | |
| Event | Start | Finish | Type | Duration |
| Captains' Drive-In | Saturday 15 February | | Closed | 1 |
| Lady Captain's Prize | Saturday 6 June | | Closed | 1 |
| Captain's Prize | Saturday 29 August | | Closed | 1 |
| President's Prize | Sunday 20 June | | Closed | 1 |
| L. & G. Singles Stableford | Tuesday 7 January | | Open | 1 |
| L. & G. Singles Stableford | Tuesday 14 January | | Open | 1 |
| L. & G. Singles Stableford | Tuesday 21 January | | Open | 1 |
| L. & G. Singles Stableford | Tuesday 28 January | | Open | 1 |
| L. & G. Singles Stableford | Tuesday 4 February | | Open | 1 |
| L. & G. Singles Stableford | Tuesday 11 February | | Open | 1 |
| L. & G. Singles Stableford | Tuesday 18 February | | Open | 1 |
| L. & G. Singles Stableford | Tuesday 25 February | | Open | 1 |
| L. & G. Singles Stableford | Tuesday 3 March | | Open | 1 |
| L. & G. Singles Stableford | Thursday 12 March | | Open | 1 |
| L. & G. Singles Stableford | Tuesday 17 March | | Open | 1 |
| L. & G. Singles Stableford | Tuesday 24 March | | Open | 1 |
| L. & G. Singles Stableford | Tuesday 31 March | | Open | 1 |
| L. & G. Singles Stableford | Tuesday 7 April | | Open | 1 |
| L. & G. Singles Stableford | Thursday 14 April | | Open | 1 |
| L. & G. Singles Stableford | Tuesday 21 April | | Open | 1 |
| L. & G. Singles Stableford | Tuesday 28 April | | Open | 1 |
| Fourball Betterball | Friday 1 May | | Open | 1 |
| L. & G. Singles Stableford | Tuesday 5 May | | Open | 1 |
| L. & G. Singles Stableford | Tuesday 12 May | | Open | 1 |
| Ladies Singles Stableford | Friday 13 May | | Open | 1 |
| L. & G. Singles Stableford | Tuesday 19 May | | Open | 1 |
| L. & G. Singles Stableford | Tuesday 26 May | | Open | 1 |
| 3-Person Team Event | Wednesday 27 May | | Open | 1 |
| L. & G. Singles Stableford | Tuesday 2 June | | Open | 1 |
| L. & G. Singles Stableford | Tuesday 9 June | | Open | 1 |
| L. & G. Singles Stableford | Tuesday 16 June | | Open | 1 |
| L. & G. Singles Stableford | Tuesday 23 June | | Open | 1 |
| L. & G. Singles Stableford | Tuesday 30 June | | Open | 1 |
| L. & G. Singles Stableford | Tuesday 7 July | | Open | 1 |
| L. & G. Singles Stableford | Tuesday 14 July | | Open | 1 |
| L. & G. Singles Stableford | Tuesday 21 July | | Open | 1 |
| L. & G. Singles Stableford | Tuesday 28 July | | Open | 1 |
| L. & G. Singles Stableford | Tuessday 4 August | | Open | 1 |
| L. & G. Singles Stableford | Tuesday 11 August | | Open | 1 |
| L. & G. Singles Stableford | Tuesday 18 August | | Open | 1 |
| L. & G. Singles Stableford | Tuesday 25 August | | Open | 1 |
| L. & G. Singles Stableford | Tuesday 1 September | | Open | 1 |
| L. & G. Singles Stableford | Tuesday 8 September | | Open | 1 |
| ITICA Pro-Am | Monday 14 August | | IPGA | 1 |
| L. & G. Singles Stableford | Tuesday 15 September | | Open | 1 |
| L. & G. Singles Stableford | Tuesday 22 September | | Open | 1 |
| L. & G. Singles Stableford | Tuesday 29 September | | Open | 1 |
| L. & G. Singles Stableford | Tuesday 6 October | | Open | 1 |
| L. & G. Singles Stableford | Tuesday 13 October | | Open | 1 |
| L. & G. Singles Stableford | Tuesday 20 October | | Open | 1 |
| L. & G. Singles Stableford | Tuesday 27 October | | Open | 1 |
| L. & G. Singles Stableford | Tuesday 3 November | | Open | 1 |
| L. & G. Singles Stableford | Tuesday 10 November | | Open | 1 |
| L. & G. Singles Stableford | Tuesday 17 November | | Open | 1 |
| L. & G. Singles Stableford | Tuesday 24 November | | Open | 1 |
| L. & G. Singles Stableford | Tuesday 1 December | | Open | 1 |
| L. & G. Singles Stableford | Tuesday 8 December | | Open | 1 |
| L. & G. Singles Stableford | Tuesday 15 December | | Open | 1 |
*Please check information before travelling
Card of the Course
| | |
| --- | --- |
| White | Par 72 SSS 72 6,379 yd's |
| Red | Par 71 SSS 72 5,428 yd's |
| Green | Par 72 SSS 70 5,974 yd's |
| Blue | Par 72 SSS 73 6,703 yd's |
Card
| | | | | | | | | |
| --- | --- | --- | --- | --- | --- | --- | --- | --- |
| Hole No. | Blue | White | Green | Par | Index | Red | Par | Index |
| 1 | 312 | 297 | 287 | 4 | 16 | 276 | 4 | 15 |
| 2 | 591 | 575 | 553 | 5 | 4 | 521 | 5 | 5 |
| 3 | 219 | 197 | 173 | 3 | 8 | 151 | 3 | 9 |
| 4 | 442 | 422 | 402 | 4 | 2 | 381 | 4 | 1 |
| 5 | 307 | 297 | 287 | 4 | 18 | 272 | 4 | 13 |
| 6 | 479 | 469 | 444 | 5 | 14 | 400 | 5 | 7 |
| 7 | 208 | 198 | 169 | 3 | 10 | 96 | 3 | 17 |
| 8 | 596 | 569 | 540 | 5 | 6 | 489 | 5 | 3 |
| 9 | 173 | 151 | 135 | 3 | 12 | 121 | 3 | 11 |
| Out | 3,327 | 3,175 | 2,990 | 36 | | 2,707 | 36 | |
| 10 | 521 | 488 | 478 | 5 | 11 | 457 | 5 | 6 |
| 11 | 158 | 151 | 139 | 3 | 15 | 111 | 3 | 12 |
| 12 | 382 | 358 | 348 | 4 | 5 | 317 | 4 | 18 |
| 13 | 331 | 322 | 299 | 4 | 13 | 275 | 4 | 10 |
| 14 | 467 | 456 | 414 | 4 | 1 | 390 | 4 | 2 |
| 15 | 350 | 328 | 302 | 4 | 17 | 276 | 4 | 16 |
| 16 | 506 | 482 | 456 | 5 | 7 | 426 | 5 | 8 |
| 17 | 464 | 437 | 408 | 4 | 3 | 362 | 4 | 4 |
| 18 | 197 | 182 | 140 | 3 | 9 | 117 | 3 | 14 |
| In | 3,376 | 3,204 | 2,984 | 36 | | 2,731 | 36 | |
| Total | 6,703 | 6,379 | 5,974 | 72 | | 5,438 | 72 | |
| SSS | 73 | 72 | 70 | | | 72 | | |
Members Achievements
History of Castleknock
Roll of Honour
| | | |
| --- | --- | --- |
| Member | Year | Hon. Position |
| | 2006 | Ladies Captain |
| | 2006 | Men's Captain |
| Paul Monahan | 2006 | President |
| Maureen Black | 2007 | Ladies Captain |
| John Sherwood | 2007 | Men's Captain |
| Paul Monahan | 2007 | President |
| Terry Smyth | 2008 | Ladies Captain |
| Paul Tobin | 2008 | Men's Captain |
| Paul Monahan | 2008 | President |
| Clare Garrihy | 2009 | Ladies Captain |
| Martin Moore | 2009 | Men's Captain |
| Paul Monahan | 2009 | President |
| Miriam Rogers | 2010 | Ladies Captain |
| Michael Galvin | 2010 | Men's Captain |
| Paul Monahan | 2010 | President |
| Brid Fallon | 2011 | Ladies Captain |
| George Coombes | 2011 | Men's Captain |
| Paul Monahan | 2011 | President |
| Rita O'Dwyer | 2012 | Ladies Captain |
| Dermot Conlon | 2012 | Men's Captain |
| Paul Monahan | 2012 | President |
| Eilish O'Sullivan | 2013 | Ladies Captain |
| Brendan Hudson | 2013 | Men's Captain |
| Paul Monahan | 2013 | President |
| Mairead Butler | 2014 | Ladies Captain |
| Michael Lacey | 2014 | Men's Captain |
| Paul Monahan | 2014 | President |
| Patricia McCormack | 2015 | Ladies Captain |
| Jack Creaner | 2015 | Men's Captain |
| Pat O'Donnell | 2015 | President |
| Rosaleen Geaney | 2016 | Ladies Captain |
| Johnny Craven | 2016 | Men's Captain |
| Pat O'Donnell | 2016 | President |
| Jakie Russell | 2017 | Ladies Captain |
| Anthony O'Connell | 2017 | Men's Captain |
| Pat O'Donnell | 2017 | President |
| RichellaBoggan | 2018 | Ladies Captain |
| Lorcan Brophy | 2018 | Men's Captain |
| Bernard Hudson | 2018 | President |
| Eithne Cusack | 2019 | Ladies Captain |
| Garrett Cooke | 2019 | Men's Captain |
| Bernard Hudson | 2019 | President |
| Linda O'Keefffe | 2020 | Ladies Captain |
| Joseph Lavelle | 2020 | Men's Captain |
| | 2020 | President |
| Sarah Lacey (4) | 2020 | Lowest Ladies Handicap |
| Paul Coughlan (-3.5) | 2020 | Lowest Men's H'cap |
| Dylan Brophy (-2.5) | 2020 | Lowest Men's H'cap |
| Andrew Mulholland (0.5) | 2020 | Lowest Men's H'cap |
| Michael O'Donovan (0.6) | 2020 | Lowest Men's H'cap |
| Odhran Mullan (4.3) | 2020 | Lowest Men's H'cap |
Holes in One at Castleknock
| | | | | |
| --- | --- | --- | --- | --- |
| Member | Date | Hole No. | Club Used | Distance |
| Martin Moore Jr. | 25 May 2007 | 9th | | 151 yd's |
| Michael Devitt | 18 August 2007 | 7th | | 169 yd's |
| Frederic Pelanne | 2 January 2009 | 3rd | | 172 yd's |