Corballis Links golf club
Dublin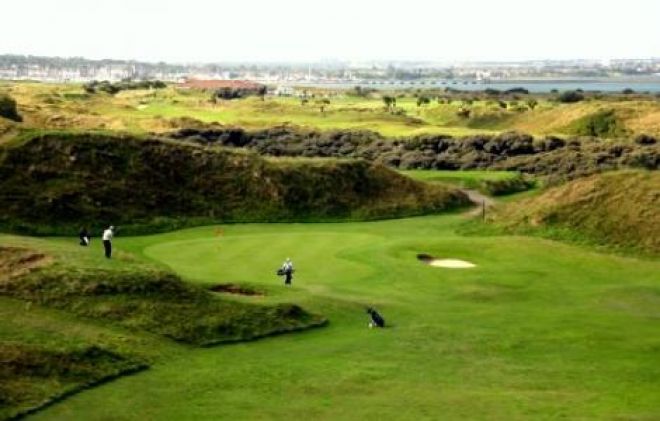 Corballis Links Golf Course
Situated on the same pristine stretch of land as The Island and boasting the same superb qualities as the world-famous links course, Corballis Golf Links offers the unrivalled experience of playing on a top quality links course at more than affordable prices.

The rugged beauty of Corballis frequently attracts top golfers from around the world and it's a regular training ground for some of Europe's best players ahead of the Irish Golf Championship.

With excellent playing conditions throughout the year and some of the best and most consistent greens in the country, Corballis Golf Links is an absolute gem of a course located just 25 minutes from the centre of Dublin.

The course is an ideal location for group, corporate or society outings and our strong ties to local restaurants and hotels means you'll never be short of somewhere to unwind after a pleasant day out on the links.
| | |
| --- | --- |
| Green Fees Midweek:d: | €30 |
| Green Fees Weekends & B.H.: | €35 |
| Green Fees with a Member: | €20 |
| Green Fees for Opens: | €20 |
| Practice Area: | Yes |
| Club Hire: | Yes |
| Buggy Hire: | No |
| Soft Spikes: | No |
| Full Membership Available: | Yes |
| Full Membership Fee: | €725 |
| Full 5-Day Membership Fee: | €525 |
| Full Pay & Play Membership Fee: | €325 |
| Full Intermediate 27-30 Membership Fee: | €565 |
| Full Intermediate 24-26 Membership Fee: | €360 |
| Full Student 18-23 Membership Fee: | €260 |
| Full Junior 8-17 Membership Fee: | €100 |
| Entrance Fee: | None |
| | |
| --- | --- |
| Secretary/Manager: | Ed Martin |
| Captain: | Wayne Sheehan |
| Lady Captain: | None |
| President: | Tony Mulgrew |
| Vice-Captain: | None |
| Hon. Secretary: | Oliver Deneher |
| Club Pro: | None |
| Hon. Treasurer: | Myles Worth |
| Comp. Secretary: | Ciaran Flanagan |
Course Layout
Location Map
GPS Coord*
Lat:53.467255
Long:-6.127582
*Please check information before travelling
General Facts & Information
| | |
| --- | --- |
| Course opening hours: Daylight hours | Clubhouse opening hours: 10.00am to 10.00pm |
| Mobile phones: Not on course | Dress Code: Neat and casual, no denim |
| Catering:Bar-Snacks | Days to Avoid: None |
| Green Fees and Societies Welcome: Midweek & Weekends | Pre-booking for open Tournaments: 14-days in advance |
Corballis Links Golf Club Fixtures 2021 provisional*
| | | | | |
| --- | --- | --- | --- | --- |
| Open & Major Fixtures 2021 (to be Confirmed) | | | | |
| Event | Start | Finish | Type | Duration |
| Captains' Drive-In | Sunday | | Closed | 1 |
| Captain's Prize (Q) | Sunday 9 May | | Closed | 1 |
| Captain's Prize (Q) | Sunday 16 May | | Closed | 1 |
| Captain's Prize | Sunday 6 June | | Closed | 1 |
| President's Prize (Q) | Sunday 4 September | | Closed | 1 |
| President's Prize | Sunday 5 September | | Closed | 1 |
| Singles Stableford | Wednesday 5 May | | Open | 1 |
| Singles Stableford | Friday 7 May | | Open | 1 |
| Singles Stableford | Monday 10 May | | Open | 1 |
| Singles Stableford | Wednesday 12 May | | Open | 1 |
| Singles Stableford | Friday 14 May | | Open | 1 |
| Singles Stableford | Monday 17 May | | Open | 1 |
| Singles Stableford | Wednesday 19 May | | Open | 1 |
| Singles Stableford | Friday 21 May | | Open | 1 |
| Singles Stableford | Monday 22 May | | Open | 1 |
| Singles Stableford | Wednesday 26 May | | Open | 1 |
| Singles Stableford | Friday 28 May | | Open | 1 |
| Singles Stableford | Monday 30 May | | Open | 1 |
| Singles Stableford | Wednesday 2 June | | Open | 1 |
| Singles Stableford | Friday 4 June | | Open | 1 |
| Singles Stableford | Monday 7 June | | Open | 1 |
| Singles Stableford | Wednesday 9 June | | Open | 1 |
| Singles Stableford | Friday 11 June | | Open | 1 |
| Singles Stableford | Monday 14 June | | Open | 1 |
| Singles Stableford | Wednesday 16 June | | Open | 1 |
| Singles Stableford | Friday 18 June | | Open | 1 |
| Singles Stableford | Monday 21 June | | Open | 1 |
| Singles Stableford | Wednesday 23 June | | Open | 1 |
| Singles Stableford | Friday 25 June | | Open | 1 |
| Singles Stableford | Monday 28 June | | Open | 1 |
| Singles Stableford | Wednesday 30 June | | Open | 1 |
| Singles Stableford | Friday 2 July | | Open | 1 |
| Singles Stableford | Monday 5 July | | Open | 1 |
| Singles Stableford | Wednesday 7 July | | Open | 1 |
| Singles Stableford | Friday 9 July | | Open | 1 |
| Singles Stableford | Monday 12 July | | Open | 1 |
| Singles Stableford | Wednesday 14 July | | Open | 1 |
| Singles Stableford | Friday 16 July | | Open | 1 |
| Singles Stableford | Monday 19 July | | Open | 1 |
| Singles Stableford | Wednesday 21 July | | Open | 1 |
| Singles Stableford | Friday 23 July | | Open | 1 |
| Singles Stableford | Monday 26 July | | Open | 1 |
| Singles Stableford | Wednesday 28 July | | Open | 1 |
| Singles Stableford | Friday 30 July | | Open | 1 |
| Singles Stableford | Monday 2 August | | Open | 1 |
| Singles Stableford | Wednesday 4 August | | Open | 1 |
| Singles Stableford | Friday 6 August | | Open | 1 |
| Singles Stableford | Monday 9 August | | Open | 1 |
| Singles Stableford | Wednesday 11 August | | Open | 1 |
| Singles Stableford | Friday 13 August | | Open | 1 |
| Singles Stableford | Monday 16 August | | Open | 1 |
| Singles Stableford | Wednesday 18 August | | Open | 1 |
| Singles Stableford | Friday 20 August | | Open | 1 |
| Singles Stableford | Monday 23 August | | Open | 1 |
| Singles Stableford | Wednesday 25 August | | Open | 1 |
| Singles Stableford | Friday 27 August | | Open | 1 |
| Singles Stableford | Monday 30 August | | Open | 1 |
| Singles Stableford | Wednesday 1 September | | Open | 1 |
| Singles Stableford | Friday 3 September | | Open | 1 |
| Singles Stableford | Monday 6 September | | Open | 1 |
| Singles Stableford | Wednesday 8 September | | Open | 1 |
| Singles Stableford | Friday 10 September | | Open | 1 |
| Singles Stableford | Monday 13 September | | Open | 1 |
| Singles Stableford | Wednesday 15 September | | Open | 1 |
| Singles Stableford | Friday 17 September | | Open | 1 |
| Singles Stableford | Monday 20 September | | Open | 1 |
| Singles Stableford | Wednesday 22 September | | Open | 1 |
| Singles Stableford | Friday 24 September | | Open | 1 |
| Singles Stableford | Monday 27 September | | Open | 1 |
| Singles Stableford | Wednesday 29 September | | Open | 1 |
| Singles Stableford | Friday 1 October | | Open | 1 |
| Singles Stableford | Monday 4 October | | Open | 1 |
| Singles Stableford | Wednesday 6 October | | Open | 1 |
| Singles Stableford | Friday 8 October | | Open | 1 |
| Singles Stableford | Monday 11 October | | Open | 1 |
| Singles Stableford | Wednesday 13 October | | Open | 1 |
| Singles Stableford | Friday 15 October | | Open | 1 |
| Singles Stableford | Monday 18 October | | Open | 1 |
| Singles Stableford | Wednesday 20 October | | Open | 1 |
| Singles Stableford | Friday 22 October | | Open | 1 |
| Singles Stableford | Monday 25 October | | Open | 1 |
| Singles Stableford | Wednesday 27 October | | Open | 1 |
| Singles Stableford | Friday 29 October | | Open | 1 |
| Singles Stableford | Monday 1 November | | Open | 1 |
| Singles Stableford | Wednesday 3 November | | Open | 1 |
| Singles Stableford | Friday 5 November | | Open | 1 |
| Singles Stableford | Monday 8 November | | Open | 1 |
| Singles Stableford | Wednesday 10 November | | Open | 1 |
| Singles Stableford | Friday 12 November | | Open | 1 |
| Singles Stableford | Monday 15 November | | Open | 1 |
| Singles Stableford | Wednesday 17 November | | Open | 1 |
| Singles Stableford | Friday 19 November | | Open | 1 |
| Singles Stableford | Monday 22 November | | Open | 1 |
| Singles Stableford | Wednesday 24 November | | Open | 1 |
| Singles Stableford | Friday 26 November | | Open | 1 |
| Singles Stableford | Monday 29 November | | Open | 1 |
| Singles Stableford | Wednesday 1 December | | Open | 1 |
| Singles Stableford | Friday 3 December | | Open | 1 |
| Singles Stableford | Monday 6 December | | Open | 1 |
| Singles Stableford | Wednesday 8 December | | Open | 1 |
| Singles Stableford | Friday 10 December | | Open | 1 |
| Singles Stableford | Monday 13 December | | Open | 1 |
| Singles Stableford | Wednesday 15 December | | Open | 1 |
| Singles Stableford | Friday 18 December | | Open | 1 |
*Please check information before travelling
Card of the Course
| | |
| --- | --- |
| White | Par 66 SSS 65 4,349 M |
| Red | Par 66 SSS 66 4,096 m |
| Blue | Par 66 SSS 66 4,624 m |
Card
| | | | | | | | |
| --- | --- | --- | --- | --- | --- | --- | --- |
| Hole No. | Blue | White | Par | Index | Red | Par | Index |
| 1 | 134 | 131 | 3 | 13 | 119 | 3 | 13 |
| 2 | 231 | 227 | 4 | 17 | 222 | 4 | 17 |
| 3 | 420 | 391 | 4 | 1 | 376 | 4 | 1 |
| 4 | 102 | 92 | 3 | 15 | 76 | 3 | 15 |
| 5 | 288 | 267 | 4 | 7 | 229 | 4 | 7 |
| 6 | 116 | 94 | 3 | 9 | 79 | 3 | 9 |
| 7 | 289 | 237 | 4 | 11 | 218 | 4 | 11 |
| 8 | 359 | 334 | 4 | 3 | 309 | 4 | 3 |
| 9 | 168 | 154 | 3 | 5 | 128 | 3 | 5 |
| Out | 2,107 | 1,927 | 32 | | 1,756 | 32 | |
| 10 | 176 | 162 | 3 | 18 | 137 | 3 | 18 |
| 11 | 247 | 230 | 4 | 14 | 221 | 4 | 14 |
| 12 | 470 | 451 | 5 | 16 | 446 | 5 | 16 |
| 13 | 126 | 121 | 3 | 8 | 109 | 3 | 8 |
| 14 | 346 | 335 | 4 | 4 | 324 | 4 | 4 |
| 15 | 372 | 364 | 4 | 12 | 361 | 4 | 12 |
| 16 | 358 | 345 | 4 | 2 | 341 | 4 | 2 |
| 17 | 130 | 122 | 3 | 10 | 114 | 3 | 10 |
| 18 | 292 | 292 | 4 | 6 | 287 | 4 | 6 |
| In | 2,517 | 2,422 | 34 | | 2,340 | 34 | |
| Total | 4,624 | 4,349 | 66 | | 4,096 | 66 | |
| SSS | 66 | 65 | | | 66 | | |
Members Achievements
History of Corballis Links
Founded 2003
Roll of Honour
Member
Year
Hon. Position
Jeanette Brophy
2004
Ladies Captain
Deardra Lahiff
2004
Ladies President
Mark Walsh
2004
Men's Captain
Sean Dolphin
2004
President
Jeanette Brophy
2005
Ladies Captain
Deardra Lahiff
2005
Ladies President
Neal Sheppard
2005
Men's Captain
Peter Willison
2005
President
Jeannette Brophy
2006
Ladies Captain
Deardra Lahiff
2006
Ladies President
Joey Dignam
2006
Men's Captain
Peter Willison
2006
President
Jeanette Brophy
2007
Ladies Captain
Shay Leathem
2007
Men's Captain
Willie O'Donnell
2007
President
Marie Mulhall
2008
Ladies Captain
Brendan Mays
2008
Men's Captain
Willie O'Donnell
2008
President
Anne Kenny
2009
Ladies Captain
Andrew Curry
2009
Men's Captain
Willie O'Donnell
2009
President
Anne Kenny
2010
Ladies Captain
Christy Stafford
2010
Men's Captain
Brian Kenny
2010
President
Linda Wagner
2011
Ladies Captain
Andy Geraghty
2011
Men's Captain
Brian Kenny
2011
President
Linda Wagner
2012
Ladies Captain
Mark McAuley
2012
Men's Captain
Brian Kenny
2012
President
Linda Wagner
2013
Ladies Captain
Mark McAuley
2013
Men's Captain

Christy Stafford

2013
President

Linda Wagner

2014
Ladies Captain
Barry O'Brien
2014
Men's Captain

Christy Stafford

2014
President

Stephen Kelly

2015
Men's Captain

Jimmy Curry

2015
President

Tony Mulgrew

2016
Men's Captain

Jimmy Curry

2016
President

Philip Gough

2017
Men's Captain

Jimmy Curry



2017
President

Paul Kiberd

2018
Men's Captain
Tony Mulgrew
2018
President

Graham Smith

2019
Men's Captain
Tony Mulgrew
2019
President

Wayne Sheehan

2020
Men's Captain
Tony Mulgrew
2020
President
2021
Men's Captain
2021
President
Chris

Tormey

(+0.1)
2021
Lowest Men's Handicap
Holes in One at Corballis Links
| | | | | |
| --- | --- | --- | --- | --- |
| Member | Date | Hole No. | Club Used | Distance |
| Ciaran O'Sullivan | 12 September 1995 | 10th | | 160 yd's |
| Greg Fogarty | 9 March 1998 | 4th | | 128 yd's |
| Daniel McCormack | 11 July 2003 | 17th | | 141 yd's |
| Joe Lee | 14 November 2006 | 14th | | 197 yd's |