Moyvalley golf club
Kildare
Moyvalley Golf Course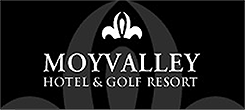 TWIN OAKS CHAMPIONSHIP COURSE AT MOYVALLEY HOTEL & GOLF RESORT
The luxury Moyvalley Hotel & Golf Resort is set amidst 550 acres of historic Kildare countryside and is one of Ireland's leading luxurious resorts perfect for a dream wedding destination, leisure break, golf, meetings, corporate events and self-catering holiday.
The "Twin Oaks Championship Course" at Moyvalley Hotel & Golf Resort, forms the centrepiece for what is one of the most impressive venues for golf in Ireland. Occupying two hundred hectares of countryside in the heart of North Kildare, the course caters to both the amateur and the professional player. Designed to fairly challenge all levels of golfers from beginners to seasonal professionals, the course is flushed out with large greens, lakes and bunkers; the par 72 course requires a studied, accurate approach.
The course layout takes on the features of a traditional Irish links golf course with tall fescue grass, quick and true greens with heavy contouring, run offs and firm surfaces. The course presents golfers of all levels a super golfing challenge through clever design, a range of tees and the always important elements of risk and reward associated with championship golf.
The modern and luxuriously appointed Twin Oaks Championship clubhouse boasts extensive locker room facilities together with a spacious bar and restaurant offering panoramic views of the course and estate. The Twin Oaks Championship clubhouse has a fully stocked Pro Shop with all the latest equipment and apparel also compliment this great facility.
The Twin Oaks Championship course boasts some of the best practice facilities in Ireland including…a driving range with both outdoor and covered driving bays, a short game academy which includes 2 large chipping greens, 3 large bunkers and 1 large practice putting green, all of which are built to a USGA specification.
Moyvalley Golf Club was voted the No. 98-ranked golf course in Ireland, by "Golf Digest Ireland" in 2018 (Down-3);
Moyvalley Golf Club was voted the No. 95-ranked golf course in Ireland, by "Golf Digest Ireland" in 2017 (Up-3);
Moyvalley Golf Club was voted the No. 98-ranked golf course in Ireland, by "Golf Digest Ireland" in 2016 (New);
Moyvalley Golf Club was voted the No. 97-ranked golf course in Ireland, by "Golf Digest Ireland" in 2012;
Golf Deals » Moyvalley

Stay & Play @ Moyvalley Hotel & Golf Resort

€68.00

Offer valid from 19 Feb 2019 to 19 Nov 2019

Detail:



Stay, Play & Dine Packages
One Night Bed & Breakfast, One Round of Golf and One Evening Meal
From €68 pps (Midweek)


| | |
| --- | --- |
| Green Fees Early Birde: | €27/35 |
| Green Fees: | €40/55 |
| Green Fees with a Member: | N/A |
| Green Fees for Opens: | €25 |
| Practice Area: | Yes |
| Club Hire: | Yes |
| Buggy Hire: €30 | Yes |
| Soft Spikes: | Yes |
| Full Membership Available: | Yes |
| Full Membership until December: | €850 |
| Full Senior Membership until December: | €650 |
| Full Lady Membership until December: | €599 |
Golf Operations Manager

:
Dave Rock

Captain:

Damon Shortt

Lady Captain:

Eithne McManus

President:


Vice-Captains':
&

Hon. Secretary:

Rob Sheehan & Marianne Shortt

Club Pro:
Dave Rock

Hon. Treasurer:

Eamon Moran & Patricia Nolan

Comp. Secretary:

Damon Shortt & Eithne McManus
Course Layout
Location Map
GPS Coord*
Lat:53.411961
Long:-6.919799
*Please check information before travelling
General Facts & Information
| | |
| --- | --- |
| Course opening hours: Daylight hours | Clubhouse opening hours: 8.30am to 12.00pm |
| Mobile phones: Not on course | Dress Code: Neat and casual, no denim |
| Catering: Full catering, facilities | Days to Avoid: Saturdays am |
| Green Fees and Societies Welcome: Other Days | Pre-booking for open Tournaments:14 Days in advance |
Moyvalley Golf Club Fixtures 2019 provisional*
| | | | | |
| --- | --- | --- | --- | --- |
| Open & Major Fixtures 2019 (to be Confirmed) | | | | |
| Event. | Start | Finish | Type | Duration |
| Captains' Drive-In | Sunday 24 March | | Closed | 1 |
| Vice-Captain's Prize | Saturday 18 May | Sunday 19 May | Closed | 2 |
| Vice-Captain's Prize | Sunday 19 May | | Closed | 1 |
| Captain's Prize (Q) | Saturday 20 July | | Closed | 1 |
| Captain's Prize (Q) | Sunday 21 July | | Closed | 1 |
| Captain's Prize | Saturday 27 July | | Closed | 1 |
| President's Prize day | Sunday 29 September | | Closed | 1 |
| Senior Singles Stableford | Thursday 7 February | | Open | 1 |
| Singles Stableford | Saturday 9 February | | Open | 1 |
| Singles Stableford | Sunday 10 February | | Open | 1 |
| Seniors Singles Stableford | Thursday 14 February | | Open | 1 |
| Singles Stableford | Saturday 16 February | | Open | 1 |
| Singles Stableford | Sunday 17 February | | Open | 1 |
| Seniors Singles Stableford | Thursday 21 February | | Open | 1 |
| Seniors Singles Stableford | Thursday 28 February | | Open | 1 |
| Singles Stableford | Friday 1 March | Sunday 3 March | Open | 3 |
| Singles Stableford | Saturday 2 March | | Open | 1 |
| Singles Stableford | Sunday 3 March | | Open | 1 |
| Seniors Singles Stableford | Thursday 7 March | | Open | 1 |
| Singles Stableford | Friday 8 March | Sunday 10 March | Open | 1 |
| Singles Stableford | Saturday 9 March | | Open | 2 |
| Singles Stableford | Sunday 10 March | | Open | 1 |
| Seniors Singles Stableford | Thursday 14 March | | Open | 1 |
| Singles Stableford | Friday 15 March | | Open | 1 |
| Team Event | Monday 18 March | | Open | 1 |
| Seniors Singles Stableford | Thursday 21 March | | Open | 1 |
| Singles Stableford | Friday 22 March | | Open | 1 |
| Seniors Singles Stableford | Thursday 28 March | | Open | 1 |
| Singles Stableford | Friday 29 March | | Open | 1 |
| Seniors Singles Stableford | Thursday 4 April | | Open | 1 |
| Singles Stableford | Friday 5 April | | Open | 1 |
| Seniors Singles Stableford | Thursday 11 April | | Open | 1 |
| Singles Stableford | Friday 12 April | | Open | 1 |
| Seniors Singles Stableford | Thursday 18 April | | Open | 1 |
| Singles Stableford | Friday 19 April | | Open | 1 |
| Moyvalley Challenge | Saturday 20 April | Monday 22 April | Open | 3 |
| Moyvalley Challenge | Sunday 21 April | | Open | 1 |
| Moyvalley Challenge | Monday 22 April | | Open | 1 |
| Seniors Singles Stableford | Thursday 25 April | | Open | 1 |
| Singles Stableford | Friday 26 April | | Open | 1 |
| Seniors Singles Stableford | Thursday 2 May | | Open | 1 |
| Singles Stableford | Friday 3 May | | Open | 1 |
| Singles Stableford | Sunday 5 May | Monday 6 May | Open | 3 |
| Singles Stableford | Monday 6 May | | Open | 1 |
| Seniors Singles Stableford | Thursday 9 May | | Open | 1 |
| Seniors Singles Stableford | Thursday 16 May | | Open | 1 |
| Seniors Singles Stableford | Thursday 23 May | | Open | 1 |
| Seniors Singles Stableford | Thursday 30 May | | Open | 1 |
| Moyvalley Challenge | Saturday 1 June | Monday 3 June | Open | 3 |
| Moyvalley Challenge | Sunday 2 June | | Open | 1 |
| Moyvalley Challenge | Monday 3 June | | Open | 1 |
| Seniors Singles Stableford | Thursday 6 June | | Open | 1 |
| Singles Stableford | Friday 7 June | | Open | 1 |
| Seniors Singles Stableford | Thursday 13 June | | Open | 1 |
| L. & G. Singles Stableford | Friday 14 June | | Open | 1 |
| Seniors Singles Stableford | Thursday 20 June | | Open | 1 |
| Seniors Singles Stableford | Thursday 27 June | | Open | 1 |
| Singles Stableford | Friday 28 June | | Open | 1 |
| Seniors Singles Stableford | Thursday 4 July | | Open | 1 |
| Singles Stableford | Friday 5 July | | Open | 1 |
| Junior Scratch Cup | Sunday 7 July | | Open | 1 |
| Inter. Scratch Cup | Sunday 7 July | | Open | 1 |
| Seniors Singles Stableford | Thursday 11 July | | Open | 1 |
| Singles Stableford | Friday 12 July | | Open | 1 |
| Seniors Singles Stableford | Thursday 18 July | | Open | 1 |
| L. & G. Singles Stableford | Friday 19 July | | Open | 1 |
| Seniors Singles Stableford | Thursday 25 July | | Open | 1 |
| Singles Stableford | Friday 26 July | | Open | 1 |
| Seniors Singles Stableford | Thursday 1 August | | Open | 1 |
| Singles Stableford | Friday 2 August | | Open | 1 |
| Moyvalley Challenge | Saturday 3 August | Monday 5 August | Open | 3 |
| Moyvalley Challenge | Sunday 4 August | | Open | 1 |
| Moyvalley Challenge | Monday 5 August | | Open | 1 |
| Seniors Singles Stableford | Thursday 8 August | | Open | 1 |
| Singles Stableford | Friday 9 August | | Open | 1 |
| Seniors Singles Stableford | Thursday 15 August | | Open | 1 |
| Singles Stableford | Friday 16 August | | Open | 1 |
| Seniors Singles Stableford | Thursday 22 August | | Open | 1 |
| Singles Stableford | Friday 23 August | | Open | 1 |
| Seniors Singles Stableford | Thursday 29 August | | Open | 1 |
| L. & G. Singles Stableford | Friday 30 August | | Open | 1 |
| Seniors Singles Stableford | Thursday 5 September | | Open | 1 |
| Singles Stableford | Friday 6 September | | Open | 1 |
| Seniors Singles Stableford | Thursday 12 September | | Open | 1 |
| Singles Stableford | Friday 13 September | | Open | 1 |
| Seniors Singles Stableford | Thursday 19 September | | Open | 1 |
| Singles Stableford | Friday 20 September | | Open | 1 |
| Seniors Singles Stableford | Thursday 26 September | | Open | 1 |
| Singles Stableford | Friday 27 September | | Open | 1 |
| Seniors Singles Stableford | Thursday 3 October | | Open | 1 |
| Singles Stableford | Friday 4 October | | Open | 1 |
| Seniors Singles Stableford | Thursday 10 October | | Open | 1 |
| Singles Stableford | Friday 11 October | | Open | 1 |
| Seniors Singles Stableford | Thursday 17 October | | Open | 1 |
| Singles Stableford | Friday 18 October | | Open | 1 |
| Seniors Singles Stableford | Thursday 24 October | | Open | 1 |
| Holloween Challenge | Saturday 26 October | Monday 28 October | Open | 3 |
| Holloween Challenge | Sunday 27 October | | Open | 1 |
| Holloween Challenge | Monday 28 October | | Open | 1 |
| Seniors Singles Stableford | Thursday 31 October | | Open | 1 |
| Seniors Singles Stableford | Thursday 7 November | | Open | 1 |
| Seniors Singles Stableford | Thursday 14 November | | Open | 1 |
| Seniors Singles Stableford | Thursday 21 November | | Open | 1 |
| Seniors Singles Stableford | Thursday 28 November | | Open | 1 |
| Seniors Singles Stableford | Thursday 5 December | | Open | 1 |
| Seniors Singles Stableford | Thursday 12 December | | Open | 1 |
| Seniors Singles Stableford | Thursday 19 December | | Open | 1 |
| Singles Stableford | Friday 27 December | Tuesday 31 December | Open | 5 |
| Singles Stableford | Saturday 28 December | | Open | 1 |
| Singles Stableford | Sunday 29 December | | Open | 1 |
| Singles Stableford | Monday 30 December | | Open | 1 |
| Singles Stableford | Tuesday 31 December | | Open | 1 |
*Please check information before travelling
Card of the Course
| | |
| --- | --- |
| White | Par 72 SSS 72 6,704 yd's |
| Yellow | Par 72 SSS 70 6,180 yd's |
| Red | Par 72 SSS 74 5,658 yd's |
| Blue | Par 72 SSS 75 7,3709 yd's |
Card
| | | | | | | | | |
| --- | --- | --- | --- | --- | --- | --- | --- | --- |
| Hole No. | Blue | White | Yellow | Par | Index | Red | Par | Index |
| 1 | 385 | 342 | 321 | 4 | 10 | 289 | 4 | 10 |
| 2 | 229 | 187 | 183 | 3 | 16 | 158 | 3 | 16 |
| 3 | 442 | 398 | 365 | 4 | 4 | 348 | 4 | 4 |
| 4 | 408 | 377 | 354 | 4 | 8 | 289 | 3 | 8 |
| 5 | 170 | 153 | 140 | 3 | 18 | 127 | 5 | 18 |
| 6 | 575 | 534 | 504 | 5 | 6 | 480 | 4 | 6 |
| 7 | 474 | 444 | 410 | 4 | 2 | 401 | 5 | 2 |
| 8 | 546 | 516 | 484 | 5 | 14 | 444 | 4 | 14 |
| 9 | 428 | 364 | 333 | 4 | 12 | 313 | 4 | 12 |
| Out | 3,657 | 3,360 | 3,094 | 36 | | 2,849 | 36 | |
| 10 | 368 | 345 | 324 | 4 | 15 | 302 | 4 | 15 |
| 11 | 434 | 405 | 376 | 4 | 7 | 350 | 4 | 7 |
| 12 | 480 | 441 | 414 | 4 | 5 | 379 | 4 | 5 |
| 13 | 621 | 535 | 508 | 5 | 9 | 457 | 5 | 9 |
| 14 | 210 | 176 | 160 | 3 | 13 | 131 | 3 | 13 |
| 15 | 323 | 301 | 260 | 4 | 17 | 237 | 4 | 17 |
| 16 | 476 | 407 | 385 | 4 | 3 | 360 | 4 | 3 |
| 17 | 199 | 168 | 154 | 3 | 11 | 127 | 3 | 11 |
| 18 | 602 | 567 | 505 | 5 | 1 | 466 | 5 | 1 |
| In | 3,713 | 3,344 | 3,086 | 36 | | 2,809 | 36 | |
| Total | 7,370 | 6,704 | 6,180 | 72 | | 5,658 | 72 | |
| SSS | 75 | 72 | 70 | | | 74 | | |
342
Members Achievements
History of Moyvalley
Founded 2006, affiliated 2007
Roll of Honour
| | | |
| --- | --- | --- |
| Member | Year | Hon. Position |
| | 2008 | Ladies Captain |
| | 2008 | Men's Captain |
| | 2008 | President |
| | 2009 | Ladies Captain |
| | 2009 | Men's Captain |
| | 2009 | President |
| | 2010 | Ladies Captain |
| Ken Boyne | 2010 | Men's Captain |
| Alex Jackson | 2010 | President |
| Dobroah Coralan | 2011 | Ladies Captain |
| John Kennedy | 2011 | Men's Captain |
| Dermot Cox | 2011 | President |
| Pam Kelly | 2012 | Ladies Captain |
| Michael Doherty | 2012 | Men's Captain |
| Dermot Cox | 2012 | President |
| Bernie Kelly | 2013 | Ladies Captain |
| Frank Shortt | 2013 | Men's Captain |
| John Kennedy | 2013 | President |
| Marianne Shortt | 2014 | Ladies Captain |
| Suneel Seetal | 2014 | Men's Captain |
| John Kennedy | 2014 | President |
| Ann McStravick | 2015 | Ladies Captain |
| Ger Kelly | 2015 | Men's Captain |
| Michael Doherty | 2015 | President |
| Ann Langan | 2016 | Ladies Captain |
| Steven Curle | 2016 | Men's Captain |
| Michael Doherty | 2016 | President |
| Roseann Traynor | 2017 | Ladies Captain |
| Bernard Doran | 2017 | Men's Captain |
| Frank Shortt | 2017 | President |
| Laura Lowry | 2018 | Ladies Captain |
| Jim McNally | 2018 | Men's Captain |
| Frank Shortt | 2018 | President |
| Eithne McManus | 2019 | Ladies Captain |
| Damon Shortt | 2019 | Men's Captain |
| | 2019 | President |
| | 2019 | Lowest Ladies H'cap |
| | 2019 | Lowest Men's H'cap |
Holes in One at Moyvalley
| | | | | |
| --- | --- | --- | --- | --- |
| Member | Date | Hole No. | Club Used | Distance |
| | | | | |