Newbridge golf club
Kildare
Newbridge Golf Course

An 18-hole course set on Kildare parkland, Newbridge Golf Club opened in 1995. Fully affiliated to the GUI in 1997, there are now 300 members. The course and its facilities improve year on year, with 13 USGA sand greens now in place, and the remaining five due to be upgraded by 2008. The holes around the turn are particularly challenging, with water features giving the golfer extra to watch out for.
Over 40,000 trees of many varieties have been planted, contributing to the peaceful and relaxed atmosphere. The clubhouse provides all the usual facilities, from food and drink and a warm fire to showers and a terrace overlooking the course.
The first 9 holes are dominated by the brooding presence of the Hill of Allen, home of the legendary Fionn MacCumhaill. The third, sixth skirt the edge of the Bog of Allen, where you can smell the blooming heather and hear cuckoo and curlews cry. The course is noted for its wildlife, with herons, moorhens, kingfisher and wild ducks, hence the club's logo. There is an active grey partridge and pheasant breeding programme underway. The course has also benefited from a prodigious planting of trees with Japanese larch, cedars of Lebanon and Norwegian Maple featuring along with the more common place oak and copper beech to name a few.
The visitor is assured of a warm welcome and can relax in the fine clubhouse set in the beautiful country side of North Kildare only 30-minutes drive from Dublin.
| | |
| --- | --- |
| Green Fees Midweek: | €15/18 |
| Green Fees Weekends & B.H.: | €17/22 |
| Green Fees with a Member: | €12/18 |
| Green Fees for Opens: | €12 |
| Practice Area: | Yes |
| Club Hire: | Yes |
| Buggy Hire: | Yes |
| Soft Spikes: | Yes |
| Full Membership Available: | |
| Full Male Membership: | €769 |
| Full Male Seniors Membership: | €659 |
| Full Ladies Membership: | €610 |
| Full Ladies Senior Membership: | €510 |
| 5-Day Membership Male: | €550 |
| 5-Day Membership Ladies: | €500 |
Manager:
Jamie Stafford
Captain:

Ollie McGuinness

Lady Captain:
Phil McDonagh

President:
Frank Tinsley
Vice-Captains':
&
Hon. Secretary:

Paddy Lalor

& Hilary King
Club Pro:
None Shop
Hon. Treasurer:

Jimmy Jordan

&

Breege Flood

Comp. Secretary:

Jim Russell

& Therese Hegarty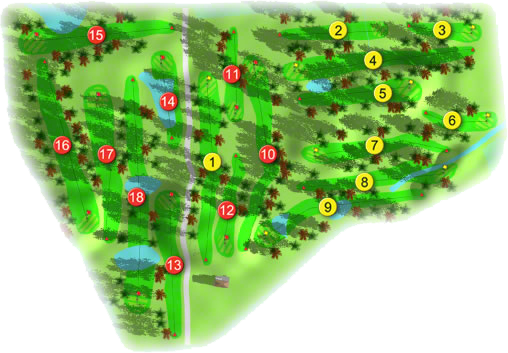 Course Layout
Location Map
GPS Coord*
Lat:53.204258
Long:-6.784787
*Please check information before travelling
General Facts & Information
| | |
| --- | --- |
| Course opening hours: Daylight hours | Clubhouse opening hours: 8.00am to 11.00pm |
| Mobile phones: Not on course | Dress Code: Neat and casual, no denim |
| Catering: Full catering, facilities, by arrangement | Days to Avoid: Sundays am |
| Green Fees and Societies Welcome: Other Days | Pre-booking for open Tournaments: 14-Days in advance |
Newbridge Golf Club Fixtures 2018 provisional*
| | | | | |
| --- | --- | --- | --- | --- |
| Open & Major Fixtures 2018 (to be Confirmed) | | | | |
| Event | Start | Finish | Type | Duration |
| Captains' Drive-In | Sunday 4 March | | Closed | 1 |
| Secretary's Prize | Friday 4 May | Sunday 6 May | Closed | 3 |
| Secretary's Prize | Saturday 5 May | | Closed | 1 |
| Secretary's Prize | Sunday 6 May | | Closed | 1 |
| President's Prize (Q) | Saturday 9 June | Sunday 10 June | Closed | 2 |
| President's Prize (Q) | Sunday 10 June | | Closed | 1 |
| President's Prize | Sunday 17 June | | Closed | 1 |
| Captain's Prize (Q) | Saturday 11 August | Sunday 12 August | Closed | 2 |
| Captain's Prize (Q) | Sunday 12 August | | Closed | 1 |
| Captain's Prize | Sunday 19 August | | Closed | 1 |
| Vice-Captain's Prize | Friday 5 October | Sunday 7 October | Closed | 3 |
| Vice-Captain's Prize | Saturday 6 October | | Closed | 1 |
| Vice-Captain's Prize | Sunday 7 October | | Closed | 1 |
| 3-Person Scramble | Saturday 17 March | | Open | 1 |
| L. & G. Singles Stableford | Wednesday 18 April | | Open | 1 |
| L. & G. Singles Stableford | Friday 20 April | | Open | 1 |
| L. & G. Singles Stableford | Friday 27 April | | Open | 1 |
| 3-Person Scramble | Monday 30 April | | Open | 1 |
| L. & G. Singles Stableford | Wednesday 2 May | Friday 4 May | Open | 3 |
| L. & G. Singles Stableford | Thursday 3 May | | Open | 1 |
| L. & G. Singles Stableford | Friday 4 May | | Open | 1 |
| L. & G. Singles Stableford | Monday 7 May | Friday 11 May | Open | 5 |
| L. & G. Singles Stableford | Tuesday 8 May | | Open | 1 |
| L. & G. Singles Stableford | Wednesday 9 May | | Open | 1 |
| L. & G. Singles Stableford | Thursday 10 May | | Open | 1 |
| L. & G. Singles Stableford | Friday 11 May | | Open | 1 |
| L. & G. Singles Stableford | Monday 14 May | Friday 18 May | Open | 5 |
| L. & G. Singles Stableford | Tuesday 15 May | | Open | 1 |
| L. & G. Singles Stableford | Wednesday 16 May | | Open | 1 |
| L. & G. Singles Stableford | Thursday 17 May | | Open | 1 |
| L. & G. Singles Stableford | Friday 18 May | | Open | 1 |
| L. & G. Singles Stableford | Monday 21 May | Friday 25 May | Open | 5 |
| L. & G. Singles Stableford | Tuesday 22 May | | Open | 1 |
| L. & G. Singles Stableford | Wednesday 23 May | | Open | 1 |
| L. & G. Singles Stableford | Thursday 24 May | | Open | 1 |
| L. & G. Singles Stableford | Friday 25 May | | Open | 1 |
| L. & G. Singles Stableford | Monday 28 May | Friday 1 June | Open | 5 |
| L. & G. Singles Stableford | Tuesday 29 May | | Open | 1 |
| L. & G. Singles Stableford | Wednesday 30 May | | Open | 1 |
| L. & G. Singles Stableford | Thursday 31 May | | Open | 1 |
| L. & G. Singles Stableford | Friday 1 June | | Open | 1 |
| 3-Person Scramble | Monday 4 June | Friday 8 June | Open | 5 |
| L. & G. Singles Stableford | Tuesday 5 June | | Open | 1 |
| L. & G. Singles Stableford | Wednesday 6 June | | Open | 1 |
| L. & G. Singles Stableford | Thursday 7 June | | Open | 1 |
| L. & G. Singles Stableford | Friday 8 June | | Open | 1 |
| L. & G. Singles Stableford | Monday 11 June | Friday 15 June | Open | 5 |
| L. & G. Singles Stableford | Tuesday 12 June | | Open | 1 |
| L. & G. Singles Stableford | Wednesday 13 June | | Open | 1 |
| L. & G. Singles Stableford | Thursday 14 June | | Open | 1 |
| L. & G. Singles Stableford | Friday 15 June | | Open | 1 |
| L. & G. Singles Stableford | Monday 18 June | Friday 22 June | Open | 5 |
| L. & G. Singles Stableford | Tuesday 19 June | | Open | 1 |
| L. & G. Seniors Singles Stableford | Wednesday 20 June | | Open | 1 |
| L. & G. Singles Stableford | Thursday 21 June | | Open | 1 |
| L. & G. Singles Strokes | Friday 22 June | | Open | 1 |
| L. & G. Singles Stableford | Monday 25 June | Friday 29 June | Open | 5 |
| L. & G. Singles Stableford | Tuesday 26 June | | Open | 1 |
| L. & G. Singles Stableford | Wednesday 27 June | | Open | 1 |
| L. & G. Singles Stableford | Thursday 28 June | | Open | 1 |
| L. & G. Singles Stableford | Friday 29 June | | Open | 1 |
| L. & G. Singles Stableford | Monday 2 July | Friday 6 July | Open | 5 |
| L. & G. Singles Stableford | Tuesday 3 July | | Open | 1 |
| L. & G. Singles Stableford | Wednesday 4 July | | Open | 1 |
| L. & G. Singles Stableford | Thursday 5 July | | Open | 1 |
| L. & G. Singles Strokes | Friday 6 July | | Open | 1 |
| L. & G. Singles Stableford | Monday 9 July | Friday 13 July | Open | 5 |
| L. & G. Singles Stableford | Tuesday 10 July | | Open | 1 |
| L. & G. Singles Stableford | Wednesday 11 July | | Open | 1 |
| L. & G. Singles Stableford | Thursday 12 July | | Open | 1 |
| L. & G. Singles Stableford | Friday 13 July | | Open | 1 |
| L. & G. Singles Stableford | Monday 16 July | Friday 20 July | Open | 5 |
| L. & G. Singles Stableford | Tuesday 17 June | | Open | 1 |
| L. & G. Singles Stableford | Wednesday 18 July | | Open | 1 |
| L. & G. Singles Stableford | Thursday 19 July | | Open | 1 |
| L. & G. Singles Stableford | Friday 20 July | | Open | 1 |
| L. & G. Singles Stableford | Monday 23 July | Friday 27 July | Open | 5 |
| L. & G. Singles Stableford | Tuesday 24 July | | Open | 1 |
| L. & G. Singles Stableford | Wednesday 25 July | | Open | 1 |
| L. & G. Singles Stableford | Thursday 26 July | | Open | 1 |
| L. & G. Singles Stableford | Friday 27 July | | Open | 1 |
| 3-Person Champagne Scramble | Saturday 28 July | | Open | 1 |
| Junior Scratch Cup | Sunday 29 July | | Open | 1 |
| Inter. Scratch Cup | Sunday 29 July | | Open | 1 |
| Minor Scratch Cup | Sunday 29 July | | Open | 1 |
| L. & G. Singles Stableford | Monday 30 July | Friday 3 August | Open | 5 |
| L. & G. Singles Stableford | Tuesday 31 July | | Open | 1 |
| L. & G. Singles Stableford | Wednesday 1 August | | Open | 1 |
| L. & G. Singles Stableford | Thursday 2 August | | Open | 1 |
| L. & G. Singles Stableford | Friday 3 August | | Open | 1 |
| 3-Person Scramble | Monday 6 August | Friday 10 August | Open | 5 |
| L. & G. Singles Stableford | Tuesday 7 August | | Open | 1 |
| L. & G. Singles Stableford | Wednesday 8 August | | Open | 1 |
| L. & G. Singles Stableford | Thursday 9 August | | Open | 1 |
| L. & G. Singles Stableford | Friday 10 August | | Open | 1 |
| L. & G. Singles Stableford | Monday 13 August | Friday 17 August | Open | 5 |
| L. & G. Singles Stableford | Tuesday 14 August | | Open | 1 |
| L. & G. Singles Stableford | Wednesday 15 August | | Open | 1 |
| L. & G. Singles Stableford | Thursday 16 August | | Open | 1 |
| L. & G. Singles Stableford | Friday 17 August | | Open | 1 |
| L. & G. Singles Stableford | Monday 20 August | Friday 24 August | Open | 5 |
| L. & G. Singles Stableford | Tuesday 21 August | | Open | 1 |
| L. & G. Singles Stableford | Wednesday 22 August | | Open | 1 |
| L. & G. Singles Stableford | Thursday 23 August | | Open | 1 |
| L. & G. Singles Stableford | Friday 24 August | | Open | 1 |
| L. & G. Singles Stableford | Monday 27 August | Friday 31 August | Open | 5 |
| L. & G. Singles Stableford | Tuesday 28 August | | Open | 1 |
| L. & G. Singles Stableford | Wednesday 29 August | | Open | 1 |
| L. & G. Singles Stableford | Thursday 30 August | | Open | 1 |
| L. & G. Singles Stableford | Friday 31 August | | Open | 1 |
| L. & G. Singles Stableford | Monday 3 September | Friday 7 September | Open | 5 |
| L. & G. Singles Stableford | Tuesday 4 September | | Open | 1 |
| L. & G. Singles Stableford | Wednesday 5 September | | Open | 1 |
| L. & G. Singles Stableford | Thursday 6 September | | Open | 1 |
| L. & G. Singles Stableford | Friday 7 September | | Open | 1 |
| L. & G. Singles Stableford | Monday 10 September | Friday 14 September | Open | 5 |
| L. & G. Singles Stableford | Tuesday 11 September | | Open | 1 |
| L. & G. Singles Stableford | Wednesday 12 September | | Open | 1 |
| L. & G. Singles Stableford | Thursday 13 September | | Open | 1 |
| L. & G. Seniors Singles Stableford | Friday 14 September | | Open | 1 |
| L. & G. Singles Stableford | Monday 17 September | Thursday 20 September | Open | 4 |
| L. & G. Singles Stableford | Tuesday 18 September | | Open | 1 |
| L. & G. Singles Stableford | Wednesday 19 September | | Open | 1 |
| L. & G. Singles Stableford | Thursday 20 September | | Open | 1 |
| Singles Stableford | Monday 24 September | Thursday 27 September | Open | 4 |
| Singles Stableford | Tuesday 25 September | | Open | 1 |
| Singles Stableford | Wednesday 26 September | | Open | 1 |
| Singles Stableford | Thursday 27 September | | Open | 1 |
| Singles Stableford | Monday 1 October | Thursday 4 October | Open | 4 |
| Singles Stableford | Tuesday 2 October | | Open | 1 |
| Singles Stableford | Wednesday 3 October | | Open | 1 |
| Singles Stableford | Thursday 4 October | | Open | 1 |
| Singles Stableford | Monday 8 October | Thursday 11 October | Open | 4 |
| Singles Stableford | Tuesday 9 October | | Open | 1 |
| Singles Stableford | Wednesday 10 October | | Open | 1 |
| Singles Stableford | Thursday 11 October | | Open | 1 |
| Singles Stableford | Monday 15 October | Thursday 18 October | Open | 4 |
| Singles Stableford | Tuesday 16 October | | Open | 1 |
| Singles Stableford | Wednesday 17 October | | Open | 1 |
| Singles Stableford | Thursday 18 October | | Open | 1 |
| Singles Stableford | Monday 22 October | Thursday 25 October | Open | 4 |
| Singles Stableford | Tuesday 23 October | | Open | 1 |
| Singles Stableford | Wednesday 24 October | | Open | 1 |
| Singles Stableford | Tuesday 25 October | | Open | 1 |
| 3-Person Scramble | Monday 29 October | | Open | 1 |
*Please check information before travelling
Card of the Course
| | |
| --- | --- |
| White | Par 72 SSS 72 6,214 yd's |
| Red | Par 73 SSS 72 5,243 yd's |
| Blue | Par 72 SSS 72 6,547 yd's |
Card
| | | | | | | | |
| --- | --- | --- | --- | --- | --- | --- | --- |
| Hole No. | Blue | White | Par | Index | Red | Par | Index |
| 1 | 481 | 467 | 5 | 16 | 375 | 5 | 13 |
| 2 | 330 | 300 | 4 | 11 | 292 | 4 | 4 |
| 3 | 173 | 170 | 3 | 9 | 131 | 3 | 17 |
| 4 | 558 | 521 | 5 | 7 | 393 | 5 | 7 |
| 5 | 365 | 361 | 4 | 6 | 346 | 4 | 3 |
| 6 | 147 | 139 | 3 | 18 | 129 | 3 | 18 |
| 7 | 427 | 394 | 4 | 2 | 326 | 4 | 9 |
| 8 | 390 | 387 | 4 | 3 | 366 | 4 | 1 |
| 9 | 480 | 475 | 5 | 13 | 427 | 5 | 11 |
| Out | 3,351 | 3,241 | 37 | | 2,789 | 37 | |
| 10 | 467 | 455 | 4 | 1 | 292 | 4 | 5 |
| 11 | 185 | 173 | 3 | 12 | 150 | 3 | 15 |
| 12 | 317 | 308 | 4 | 17 | 291 | 4 | 12 |
| 13 | 396 | 373 | 4 | 5 | 242 | 4 | 16 |
| 14 | 190 | 171 | 3 | 8 | 132 | 4 | 10 |
| 15 | 307 | 296 | 4 | 15 | 289 | 4 | 2 |
| 16 | 410 | 392 | 4 | 4 | 385 | 5 | 14 |
| 17 | 405 | 351 | 4 | 10 | 289 | 4 | 6 |
| 18 | 519 | 481 | 5 | 14 | 375 | 5 | 8 |
| In | 3,196 | 3,00 | 35 | | 2,454 | 36 | |
| Total | 6,547 | 6,241 | 72 | | 5,243 | 73 | |
| SSS | 72 | 72 | | | 72 | | |
Notable rounds
Men's Course Record: 72 Pat O'Doherty
Ladies Course Record:
Members Achievements
History of Newbridge
Founded 1997
Roll of Honour
| | | |
| --- | --- | --- |
| Member | Year | Hon. Position |
| Paddy Hensey | 1997 | Men's Captain |
| Eddie Stafford | 1997 | President |
| Paddy Hensey | 1998 | Men's Captain |
| Eddie Stafford | 1998 | President |
| Fionnuala Neylon | 1999 | Ladies Captain |
| Pat Booth | 1999 | Men's Captain |
| Eddie Stafford | 1999 | President |
| Angela Nugent | 2000 | Ladies Captain |
| Billy Connor | 2000 | Men's Captain |
| Eddie Stafford | 2000 | President |
| Marie Cullen | 2001 | Ladies Captain |
| Mick Deely | 2001 | Men's Captain |
| Eddie Stafford | 2001 | President |
| Catherine Morrin | 2002 | Ladies Captain |
| Denis Sexton | 2002 | Men's Captain |
| Eddie Stafford | 2002 | President |
| Mary O'Halleron | 2003 | Ladies Captain |
| Denis Sexton | 2003 | Men's Captain |
| Eddie Stafford | 2003 | President |
| Theresa Hegarty | 2004 | Ladies Captain |
| Frank Tinsley | 2004 | Men's Captain |
| Eddie Stafford | 2004 | President |
| Una Kelly | 2005 | Ladies Captain |
| Tom Mahon | 2005 | Men's Captain |
| Eddie Stafford | 2005 | President |
| Lois Dowse | 2006 | Ladies Captain |
| Pat O'Doherty | 2006 | Men's Captain |
| Eddie Stafford | 2006 | President |
| Mary Grace | 2007 | Ladies Captain |
| Frank Mean | 2007 | Men's Captain |
| Eddie Stafford | 2007 | President |
| Maura Kavanagh | 2008 | Ladies Captain |
| Ollie Flanagan | 2008 | Men's Captain |
| Eddie Stafford | 2008 | President |
| Carole McCormack | 2009 | Ladies Captain |
| Arthur Voigt | 2009 | Men's Captain |
| Eddie Stafford | 2009 | President |
| Marjorie Farragher | 2010 | Ladies Captain |
| Joe Kelly | 2010 | Men's Captain |
| Eddie Stafford | 2010 | President |
| Bernie Lyons | 2011 | Ladies Captain |
| Ed Byrne | 2011 | Men's Captain |
| Eddie Stafford | 2011 | President |
| Fiona O'Neill | 2012 | Ladies Captain |
| Nicky Tobin | 2012 | Men's Captain |
| Eddie Stafford | 2012 | President |
| Nuala Leonard | 2013 | Ladies Captain |
| Paul Leogue | 2013 | Men's Captain |
| Eddie Stafford | 2013 | President |
| Hillary King | 2014 | Ladies Captain |
| Adrian King | 2014 | Men's Captain |
| Eddie Stafford | 2014 | President |
| Ann Gordon | 2015 | Ladies Captain |
| Eamonn Cunningham | 2015 | Men's Captain |
| Eddie Stafford | 2015 | President |
| Nuala Kavanagh | 2016 | Ladies Captain |
| Jimmy Martin | 2016 | Men's Captain |
| Eddie Stafford | 2016 | President |
| Breege Flood | 2017 | Ladies Captain |
| John Kesh-Reilly | 2017 | Men's Captain |
| Frank Tinsley | 2017 | President |
| Phil McDonagh | 2018 | Ladies Captain |
| Ollie McGuinness | 2018 | Men's Captain |
| Frank Tinsley | 2018 | President |
| Kay Stafford (7) | 2018 | Lowest Ladies Handicap |
| G. Lawlor | 2018 | Lowest Men's Handicap |
| John Mitchell (3) | 2018 | Lowest Men's Handicap |
Holes in One at Newbridge
| | | | | |
| --- | --- | --- | --- | --- |
| Member | Date | Hole No. | Club Used | Distance |
| Ken Branigan | 4 May 2002 | 14th | | 185 m |
| Kate Staffort | 31 May 2003 | 11th | | 141 m |
| Patrick O'Loughlin | 21 February 2008 | 11th | | 185 m |
| Michael J. Cassidy | 8 November 2008 | 11th | | 173 m |