Castlereagh Hills golf club
Down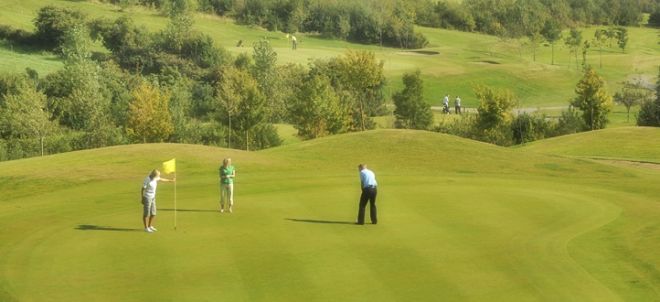 Castlereagh Hills Golf Course
Castlereagh Hills Golf Club was founded in 1983 and designed by one of Northern Irelands favourite sons David Jones. It is a 18-hole Parkland just outside the City of Belfast, measuring 5,700 yards with a Par 67 and a standard scratch of 68 off the men's tees. The ladies course measures 4,830 metres with a Par 72 and a standard scratch 70.
Catlereagh Hills Golf Club is in the process of upgrading the whole Course. At present 12 of the greens and tees are to USGA Standard and an ongoing programme will upgrade the remaining 6 holes over the next couple of years.
It is a fair but challenging round of golf where a warm welcome is extended to one and all in the clubhouse.
David Jones on his Course:
The 4th: a strategic, 'risk versus reward' short par four where a decision has to be made to lay up short of a broad stream, or go for the heroic carry to shorten the second shot.

The 7th: ...which came out of nowhere following the discovery of an ancient "flax-hole". This was excavated into a lovely little lake with stone bridges transforming what might have been a very ordinary par four into a superb one.

The 8th: A tough uphill par four through the only band of mature trees on the site, to a well-protected and interestingly contoured green."
| | |
| --- | --- |
| Green Fees Midweek: | £17 |
| Green Fees Weekends & B.H.: | £22.50 |
| Green Fees with a Member: | £13.50/17 |
| Green Fees for Opens: | £10 |
| Practice Area: | Yes |
| Club Hire: | Yes |
| Buggy Hire: | Yes |
| Soft Spikes: | No |
Secretary/Manager:
Roy Skillen
Captain:

Jim Neill

Lady Captain:
Joan McCaffrey
President:
Jim Malcolm
Vice-Captains':
Murray Moreland & Geraldine Haire
Hon. Secretary:

Jimmy Gibson

& Ena Shaw
Club Pro:
Roy Skillen 028-90-448477
Hon. Treasurer:
Mervyn Bannister & Diane Gibson

Comp. Secretary:
Wilson Johnston & Karen Skelton
Location Map
GPS Coord*
Lat:54.596634
Long:-5.929012
*Please check information before travelling
General Facts & Information
| | |
| --- | --- |
| Course opening hours: Daylight hours | Clubhouse opening hours: am to pm |
| Mobile phones: Not on course | Dress Code: Neat and casual, no denim |
| Catering: Full catering, facilities | Days to Avoid: None |
| Green Fees and Societies Welcome: Midweek & Weekends | Pre-booking for open Tournaments: 14-days in advance |
Castlereagh Hills Golf Club Fixtures 2019 provisional*
| | | | | |
| --- | --- | --- | --- | --- |
| Open & Major Fixtures 2019 (to be Confirmed) | | | | |
| Event | Start | Finish | Type | Duration |
| Captain's Prize | Saturday 2 June | | Closed | 1 |
| President's Prize | Saturday 8 September | | Closed | 1 |
| Pierce Purcell Shield (Q) | Sunday 12 May | | GUI | 1 |
| L. & G. Stableford | Monday 9 July | | Open | 1 |
| Start of Open Week | Wednesday 25 July | Sunday 29 July | Open | 5 |
| Seniors Stableford | Wednesday 25 July | | Open | 1 |
| Juniors Stableford | Wednesday 25 July | | Open | 1 |
| L. & G. Stableford | Thursday 26 July | | Open | 1 |
| Team Event | Friday 27 July | | Open | 1 |
| Ladies 3-Person Team Event | Saturday 28 July | | Open | 1 |
| Mixed Greensomes | Sunday 29 July | | Open | 1 |
*Please check information before travelling
Card of the Course
| | |
| --- | --- |
| White | Par 69 SSS 67 5,563 yd's |
| Yellow | Par 69 SSS 67 5,242 yd's |
| Red | Par 70 SSS 69 4,846 yd's |
Card
| | | | | | | | |
| --- | --- | --- | --- | --- | --- | --- | --- |
| Hole No. | White | Yellow | Par | Index | Red | Par | Index |
| 1 | 303 | 296 | 4 | 16 | 282 | 4 | 8 |
| 2 | 472 | 423 | 4 | 14 | 395 | 5 | 18 |
| 3 | 143 | 133 | 3 | 12 | 110 | 3 | 12 |
| 4 | 313 | 297 | 4 | 4 | 281 | 4 | 4 |
| 5 | 367 | 342 | 4 | 6 | 319 | 4 | 6 |
| 6 | 125 | 110 | 3 | 18 | 103 | 3 | 16 |
| 7 | 394 | 373 | 4 | 2 | 295 | 4 | 2 |
| 8 | 337 | 308 | 4 | 10 | 265 | 4 | 14 |
| 9 | 185 | 160 | 3 | 8 | 139 | 3 | 10 |
| Out | 2,645 | 2,442 | 34 | | 2,189 | 34 | |
| 10 | 410 | 398 | 4 | 1 | 400 | 5 | 9 |
| 11 | 152 | 141 | 3 | 7 | 126 | 3 | 11 |
| 12 | 504 | 493 | 5 | 9 | 438 | 5 | 3 |
| 13 | 329 | 316 | 4 | 3 | 303 | 4 | 5 |
| 14 | 165 | 152 | 3 | 11 | 139 | 3 | 15 |
| 15 | 337 | 324 | 4 | 13 | 313 | 4 | 7 |
| 16 | 294 | 279 | 4 | 17 | 264 | 4 | 17 |
| 17 | 317 | 309 | 4 | 15 | 301 | 4 | 13 |
| 18 | 410 | 388 | 4 | 5 | 373 | 4 | 1 |
| In | 2,918 | 2,800 | 35 | | 2,657 | 36 | |
| Total | 5,563 | 5,242 | 69 | | 4,846 | 70 | |
| SSS | 67 | 67 | | | 69 | | |
Notable rounds
Men's Course Record: 65 T. McIver 1993
Ladies Course Record:
Members Achievements
History of Castlereagh Hills
Roll of Honour
| | | |
| --- | --- | --- |
| Member | Year | Hon. Position |
| | 1990 | Ladies Captain |
| | 1990 | Men's Captain |
| | 1990 | President |
| | 1991 | Ladies Captain |
| | 1991 | Men's Captain |
| | 1991 | President |
| | 1992 | Ladies Captain |
| | 1992 | Men's Captain |
| | 1992 | President |
| | 1993 | Ladies Captain |
| | 1993 | Men's Captain |
| | 1993 | President |
| | 1994 | Ladies Captain |
| | 1994 | Men's Captain |
| | 1994 | President |
| | 1995 | Ladies Captain |
| | 1995 | Men's Captain |
| | 1995 | President |
| | 1996 | Ladies Captain |
| | 1996 | Men's Captain |
| | 1996 | President |
| | 1997 | Ladies Captain |
| | 1997 | Men's Captain |
| | 1997 | President |
| | 1998 | Ladies Captain |
| | 1998 | Men's Captain |
| | 1998 | President |
| | 1999 | Ladies Captain |
| | 1999 | Men's Captain |
| | 1999 | President |
| | 2000 | Ladies Captain |
| Alister Price | 2000 | Men's Captain |
| | 2000 | President |
| | 2001 | Ladies Captain |
| | 2001 | Ladies President |
| Jim Grant | 2001 | Men's Captain |
| | 2001 | President |
| Dawn Scarbra | 2002 | Ladies Captain |
| Ronnie Weir | 2002 | Men's Captain |
| | 2002 | President |
| | 2003 | Ladies Captain |
| | 2003 | Men's Captain |
| | 2003 | President |
| | 2004 | Ladies Captain |
| James Gibson | 2004 | Men's Captain |
| James Eager | 2004 | President |
| | 2005 | Ladies Captain |
| Mervyn Bannister | 2005 | Men's Captain |
| James Eager | 2005 | President |
| Susan Carnson | 2006 | Ladies Captain |
| Mervyn Bannister | 2006 | Men's Captain |
| Peter Robinson | 2006 | President |
| Phyllis Richardson | 2007 | Ladies Captain |
| Thomas McIver | 2007 | Men's Captain |
| Peter Robinson | 2007 | President |
| Agnes Graham | 2008 | Ladies Captain |
| Ronney Brown | 2008 | Men's Captain |
| Peter Robinson | 2008 | President |
| | 2009 | Ladies Captain |
| | 2009 | Men's Captain |
| | 2009 | President |
| Rosie Duffy | 2010 | Ladies Captain |
| William Spiers | 2010 | Men's Captain |
| John Galway | 2010 | President |
| Christine Compton | 2011 | Ladies Captain |
| William Spiers | 2011 | Men's Captain |
| John Galway | 2011 | President |
| Phyllis Scott | 2012 | Ladies Captain |
| Thomas Sloan | 2012 | Men's Captain |
| John Galway | 2012 | President |
| Geraldine Ruddock | 2013 | Ladies Captain |
| Norman Stewart | 2013 | Men's Captain |
| | 2013 | President |
| Ann Malone | 2014 | Ladies Captain |
| Wilson Johnston | 2014 | Men's Captain |
| John Gibson | 2014 | President |
| Ann Malone | 2015 | Ladies Captain |
| Wilson Johnston | 2015 | Men's Captain |
| John Gibson | 2015 | President |
| | 2016 | Ladies Captain |
| | 2016 | Men's Captain |
| | 2016 | President |
| Stephanie Rankin | 2017 | Ladies Captain |
| Bob Campbell | 2017 | Men's Captain |
| | 2017 | President |
| Deborah Finch | 2018 | Ladies Captain |
| Jim Mawhinney | 2018 | Men's Captain |
| Jim Malcolm | 2018 | President |
| Joan McCaffrey | 2019 | Ladies Captain |
| Jim Neill | 2019 | Men's Captain |
| Jim Malcolm | 2019 | President |
| | 2019 | Lowest Ladies Handicap |
| | 2019 | Lowest Men's Handicap |
Holes in One at Castlereagh Hills
| | | | | |
| --- | --- | --- | --- | --- |
| Member | Date | Hole No. | Club Used | Distance |
| | | 6th | | 221 yd's |
If you have had a Hole-in-One on your course and would like it recorded here please contact me on go.golfing@yahoo.ie
Giving your name, the date,the hole, the club used and the distance