Ballinastoe golf club
Wicklow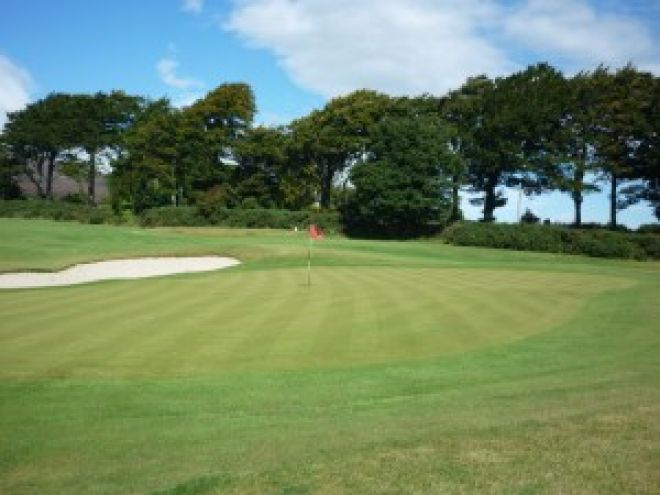 Ballinastoe Golf Course
Ballinastoe Golf Club is set in the beautiful surrounds of the Wicklow countryside. Come and enjoy a thrilling game of golf on a course which offers everything from deceptively tricky short holes to long but enjoyable par 4's that make for an all round golfing experience, catering for all playing standards.
The course is open for play all year round due to its excellent natural drainage and sand based greens. Visitors are more than welcome anytime so please drop in and give the course a try.
We offer golf membership for the Dublin/Wicklow area from €150.
| | |
| --- | --- |
| Green Fees Midweek: | €15 |
| Green Fees Weekends & B.H.: | €15 |
| Green Fees with a Member: | €15 |
| Green Fees for Opens: | N/A |
| Practice Area: | Yes |
| Club Hire: | No |
| Buggy Hire: | Yes |
| Soft Spikes: | Yes |
| Full Membership Available: | Yes |
| Full Membership Fee: | €499 |
| Full Ladies Membership Fee: | €350 |
| Full 5-Day Membership Fee: | €350 |
| Full Junior Membership Fee: | €100 |
| Entrance Fee: | None |
Secretary/Manager:

Sinead Byrne

Captain:


Lady Captain:
President:


Vice-Captains':
&

Hon. Secretary:

Willie McAnaspie

& Dolores Lumsden

Club Pro:

Leo Hynes

Hon. Treasurer:

Bert Foxton

Comp. Secretary:

Willie McAnaspie
Location Map
GPS Coord*
Lat:53.068630
Long:-6.235213
*Please check information before travelling
General Facts & Information
| | |
| --- | --- |
| Course opening hours: Daylight hours | Clubhouse opening hours: 9.00am to dusk |
| Mobile phones: Not on course | Dress Code: Neat and casual, no denim |
| Catering: Full catering, facilities, wine license | Days to Avoid: Sundays am & Tuesdays |
| Green Fees and Societies Welcome: Other times | Pre-booking for open Tournaments:14 Days in advance |
Ballinastoe Golf Club Fixtures 2021 provisional*
| | | | | |
| --- | --- | --- | --- | --- |
| Open & Major Fixtures 2020 (to be Confirmed) | | | | |
| Event | Start | Finish | Type | Duration |
| Captains' Drive-In | Tuesday 17 March | | Closed | 1 |
| Captain's Prize | Saturday 18 July | | Closed | 1 |
| President's Prize L. & G. | Saturday 5 December | | Closed | 1 |
*Please check information before travelling
Card of the Course
| | |
| --- | --- |
| White | Par 70 SSS 70 6,088 m |
| Red | Par 72 SSS 70 5,172 M |
| Green | Par 70 SSS 70 5,746 m |
Card
| | | | | | | | |
| --- | --- | --- | --- | --- | --- | --- | --- |
| Hole No. | White | Green | Par | Index | Red | Par | Index |
| 1 | 319 | 365 | 4 | 9 | 335 | 4 | 9 |
| 2 | 199 | 149 | 3 | 17 | 110 | 3 | 17 |
| 3 | 264 | 264 | 4 | 11 | 192 | 4 | 11 |
| 4 | 477 | 462 | 5 | 13 | 412 | 5 | 13 |
| 5 | 385 | 385 | 4 | 5 | 353 | 4 | 5 |
| 6 | 394 | 383 | 4 | 1 | 374 | 5 | 1 |
| 7 | 368 | 368 | 4 | 7 | 342 | 4 | 7 |
| 8 | 201 | 142 | 3 | 15 | 142 | 3 | 15 |
| 9 | 365 | 355 | 4 | 3 | 326 | 4 | 3 |
| Out | 3,044 | 2,873 | 35 | | 2,586 | 36 | |
| 10 | 319 | 365 | 4 | 10 | 335 | 4 | 10 |
| 11 | 199 | 149 | 3 | 18 | 110 | 3 | 18 |
| 12 | 264 | 264 | 4 | 12 | 192 | 4 | 12 |
| 13 | 477 | 462 | 5 | 14 | 412 | 5 | 14 |
| 14 | 385 | 385 | 4 | 6 | 353 | 4 | 6 |
| 15 | 394 | 383 | 5 | 2 | 374 | 5 | 2 |
| 16 | 368 | 368 | 4 | 8 | 342 | 4 | 8 |
| 17 | 201 | 142 | 3 | 16 | 142 | 3 | 16 |
| 18 | 363 | 355 | 4 | 4 | 326 | 4 | 4 |
| In | 3,044 | 2,873 | 35 | | 2,586 | 36 | |
| Total | 6,088 | 5,746 | 70 | | 5,172 | 72 | |
| SSS | 70 | 70 | | | 70 | | |
Members Achievements
History of Ballinastoe
Roll of Honour
| | | |
| --- | --- | --- |
| Member | Year | Hon. Position |
| Michael Barry | 2009 | Men's Captain |
| Paddy King | 2010 | Men's Captain |
| Bernadette Walsh | 2011 | Ladies Captain |
| Willie Mcanaspie | 2011 | Men's Captain |
| Joyce Dempsey | 2012 | Ladies Captain |
| Stephen O'Brien | 2012 | Men's Captain |
| Jacqueline McKenna | 2013 | Ladies Captain |
| Paddy Harvey | 2013 | Men's Captain |
| Diana Massey | 2014 | Ladies Captain |
| Anthony Mulligan | 2014 | President |
| Tom Creavin | 2014 | Men's Captain |
| Sinead Byrne | 2015 | Ladies Captain |
| Anthony Mulligan | 2015 | President |
| Robert Foxton | 2015 | Men's Captain |
| Mary Reynolds | 2016 | Ladies Captain |
| Anthony Mulligan | 2016 | President |
| Gary King | 2016 | Men's Captain |
| Barbara Thompson | 2017 | Ladies Captain |
| Anthony Mulligan | 2017 | President |
| Thomas Murphy | 2017 | Men's Captain |
| | 2018 | Ladies Captain |
| Anthony Mulligan | 2018 | President |
| Philip Downes | 2018 | Men's Captain |
| | 2019 | Ladies Captain |
| | 2019 | Men's Captain |
| | 2019 | President |
| | 2020 | Ladies Captain |
| | 2020 | Men's Captain |
| | 2020 | President |
| | 2020 | Lowest Handicapper |
Holes in One at Ballinastoe
| | | | | |
| --- | --- | --- | --- | --- |
| Member | Date | Hole No. | Club Used | Distance |
| | | | | |
| | | | | |