Bunclody Golf & Fishing Club golf club
Wexford
Bunclody Golf & Fishing Club Golf Course
Bunclody Golf & Fishing Club is set in 300 acres of breath-taking parklands in the former Hall-Dare Estate and the lift is provided as a convenience for weary golfers!
It is a feature that could be copied to good advantage at a number of other Irish courses which present a stern walking challenge to all and a near impossible test to their senior citizens.
Opulence and old world rural charm are being combined in a manner befitting the magnificent location here in the former Hall-Dare Estate. Bunclody Golf and Fishing Club is fast becoming another glittering jewel in Ireland's crown of fine golf courses. This is a big golf course. It runs over 7,000 yards and is the highest point to date in the ascending design career of Jeff Howes. It is set to be a worthy neighbour to Mount Juliet. The town of Bunclody shares the Adare-style rustic charm and the luxurious Carlton Millrace Hotel is located just across from the entrance of Bunclody Golf and Fishing Club, Co. Wexford.
Their Pro Shop stocks ALL leading clothing brands, Galvin Green, Oscar Jacobson, Chervo, Ping, Lyle & Scott, Tommy Hilfiger and many more.
Their extensive clothing range includes both crested and un-crested garments.
They also stock a full range of Golf Equipment, manufactured by leading companies such as Titleist, Taylor made, Ping etc.
In store they have a complete range of golf balls, gloves and other accessories.
Gift Cards are available for the Pro shop, which make a perfect present for all occasions.
Golf Academy – OPEN TO THE PUBLIC 7 DAYS
The academy includes:
Fully Floodlit Golf Range, 10 indoor bays, large outdoor grass teeing ground, putting green & 2 chipping greens with green side bunkers. FlightScope Monitor now available for club fittings and club distance checks.
Professional Services:
The pro shop offers trolly hire service both electric and hand operated, as well as motorized golf buggies.
You are welcome to Pre Book your buggy or trolly in advance of your round.
Bunclody Golf & Fishing Club was voted the No. 65-ranked golf course in Ireland, by "Irish Golfer" in 2022;
Bunclody Golf & Fishing Club was voted the No. 52-ranked golf course in Ireland, by "Golf Digest Ireland" in 2020 (Same);
Bunclody Golf & Fishing Club was voted the No. 52-ranked golf course in Ireland, by "Golf Digest Ireland" in 2019 (Up-1);
Bunclody Golf & Fishing Club was voted the No. 53-ranked golf course in Ireland, by "Golf Digest Ireland" in 2018 (Down-1);
Bunclody Golf & Fishing Club was voted the No. 52-ranked golf course in Ireland, by "Golf Digest Ireland" in 2017 (Same);
Bunclody Golf & Fishing Club was voted the No. 52-ranked golf course in Ireland, by "Golf Digest Ireland" in 2016 (Down-1);
Bunclody Golf & Fishing Club was voted the No. 51-ranked golf course in Ireland, by "Golf Digest Ireland" in 2015 (Up-3);
Bunclody Golf & Fishing Club was voted the No. 54-ranked golf course in Ireland, by "Golf Digest Ireland" in 2014 (Up-3);
Bunclody Golf & Fishing Club was voted the No. 57-ranked golf course in Ireland, by "Golf Digest Ireland" in 2013 (Up-2);
Bunclody Golf & Fishing Club was voted the No. 59-ranked golf course in Ireland, by "Golf Digest Ireland" in 2012;
Bunclody Golf & Fishing Club was voted the No. 25-Parkland/Inland Course in Ireland by "Backspin" Irelands leading Golf magazine in 2012, the panel comprised of a selection of 52 Professional and amateur golfers throughout Ireland;
Bunclody Golf & Fishing Club was voted theNo. 59-ranked golf course in Ireland, by "Golf Digest Ireland" in 2010;
Bunclody Golf & Fishing Club was voted the No. 27-Parkland/Inland Course in Ireland by "Backspin" Irelands leading Golf magazine in 2010, the panel comprised of a selection of 52 Professional and amateur golfers throughout Ireland;
| | |
| --- | --- |
| Green Fees May to Nov. Mon. & Tues.: | €30/35 |
| Green Fees May to Nov. Thursday: | €35 |
| Green Fees May to Nov. Friday: | €45 |
| Green Fees May to Nov. Saturday: | €55 |
| Green Fees May to Nov. Sunday: | €50 |
| Green Fees Mon. & Tues.: | €40 |
| Green Fees Thursday: | €40 |
| Green Fees Friday: | €50 |
| Green Fees Saturday: | €60 |
| Green Fees Sunday: | €55 |
| Green Fees with a Member: | €30 |
| Green Fees for Opens: | €35 |
| Practice Area: | Range |
| Club Hire: | Yes |
| Buggy Hire: €35 | Yes |
| Soft Spikes: | Yes |
| Full Membership Available: | Yes |
| Full Membership Fee: | €1,075 |
| Full U-35 Membership Fee Year 1: | €700 |
| Full U-35 Membership Fee Year 2: | €800 |
| Full Distance Membership Fee: | €675 |
| Membership Fee: | None |
| | |
| --- | --- |
| General Manager: | Caroline Dunne |
| Captain: | Tony Ensor |
| Lady Captain: | Monica Mernagh |
| Presidents': | Peter Crean & Marita Byrne |
| Vice-Captains': | None |
| Hon. Secretary: | Rory Kinsella & Elizabeth Doyle |
| Pro.: | Gary McLean |
| Hon. Treasurer: | Pat Hanrick & Fran Crean |
| Comp. Secretary: | Liam Doyle & Marita Byrne |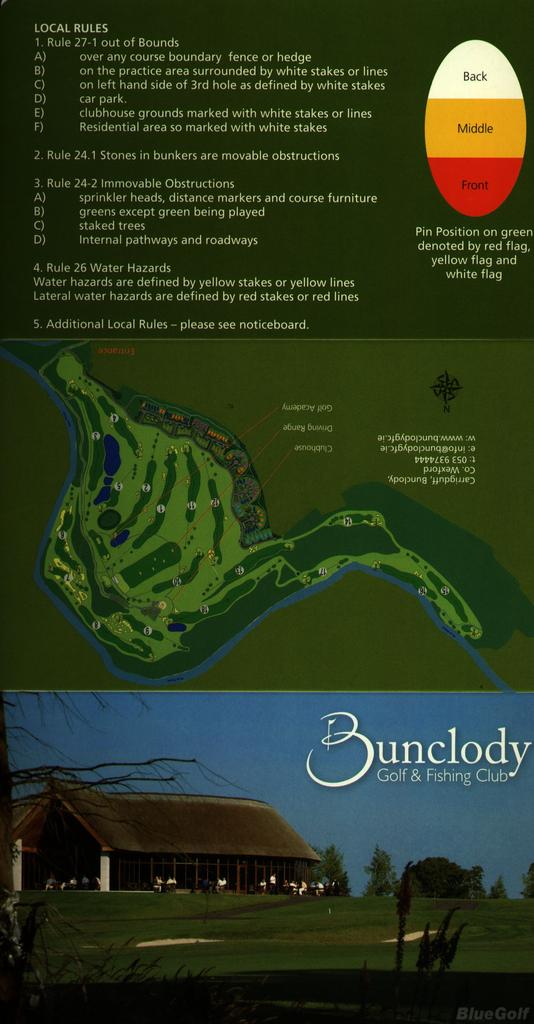 Course Layout
Location Map
GPS Coord*
Lat:52.656136
Long:-6.654882
*Please check information before travelling
General Facts & Information
| | |
| --- | --- |
| Course opening hours: Daylight hours | Clubhouse opening hours: 8.00am to Dusk |
| Mobile phones: Not on course | Dress Code: Neat and casual, no denim |
| Catering: Full catering facilities | Days to Avoid: None |
| Green Fees and Societies Welcome: Every Day | Pre-booking for open Tournaments:None |
With our Premier Parkland Pass you can play at Bunclody Golf Course. Mount Wolseley Golf Course and Carlow Golf Club and for just €99
Bunclody Golf & Fishing Club Golf Club Fixtures 2023 provisional*
| | | | | |
| --- | --- | --- | --- | --- |
| Open & Major Fixtures 2022 (Confirmed) | | | | |
| Event | Start | Finish | Type | Duration |
| Captain´s Drive-In | Sunday | | Closed | 1 |
| Lady Captain's Prize | Sunday 26 June | | Closed | 1 |
| Captain's Prize | Sunday 7 August | | Closed | 1 |
| President's Prize | Sunday 4 September | | Closed | 1 |
| Lady President's Prize | Sunday 4 September | | Closed | 1 |
| L. & G. Singles Stableford | Wednesday 16 February | | Open | 1 |
| L. & G. Singles Stableford | Wednesday 23 February | | Open | 1 |
| L. & G. Singles Stableford | Wednesday 2 March | | Open | 1 |
| L. & G. Singles Stableford | Wednesday 9 March | | Open | 1 |
| L. & G. Seniors Singles Stableford | Monday 14 March | | Open | 1 |
| L. & G. Singles Stableford | Wednesday 16 March | Friday 18 March | Open | 3 |
| L. & G. Singles Stableford | Thursday 17 March | | Open | 1 |
| L. & G. Singles Stableford | Friday 18 March | | Open | 1 |
| L. & G. Singles Stableford | Wednesday 23 March | | Open | 1 |
| L. & G. Singles Stableford | Wednesday 30 March | | Open | 1 |
| L. & G. Singles Stableford | Wednesday 6 April | | Open | 1 |
| L. & G. Singles Stableford | Monday 11 April | | Open | 1 |
| L. & G. Singles Stableford | Wednesday 13 April | | Open | 1 |
| Easter L. & G. 4-Person Team Event | Saturday 16 April | Monday 18 April | Open | 3 |
| Easter L. & G. 4-Person Team Event | Sunday 17 April | | Open | 1 |
| Easter L. & G. 4-Person Team Event | Monday 18 April | | Open | 1 |
| L. & G. Singles Stableford | Wednesday 20 April | | Open | 1 |
| L. & G. Singles Stableford | Wednesday 27 April | | Open | 1 |
| L. & G. 4-Person Team Event | Saturday 30 April | Sunday 1 May | Open | 2 |
| L. & G. 4-Person Team Event | Sunday 1 May | | Open | 1 |
| Singles Stableford | Monday 2 May | | Open | 1 |
| L. & G. Singles Stableford | Wednesday 4 May | | Open | 1 |
| L. & G. Singles Stableford | Wednesday 11 May | | Open | 1 |
| L. & G. Seniors Singles Stableford | Monday 16 May | | Open | 1 |
| L. & G. Singles Stableford | Wednesday 18 May | | Open | 1 |
| L. & G. Singles Stableford | Wednesday 25 May | | Open | 1 |
| L. & G. Singles Stableford | Wednesday 1 June | | Open | 1 |
| L. & G. 4-Person Scramble | Saturday 4 June | Sunday 5 June | Open | 2 |
| L. & G. 4-Person Scramble | Sunday 5 June | | Open | 1 |
| L. & G. Singles Stableford | Monday 6 June | | Open | 1 |
| L. & G. Singles Stableford | Wednesday 8 June | | Open | 1 |
| L. & G. Seniors Singles Stableford | Monday 13 June | | Open | 1 |
| L. & G. Singles Stableford | Wednesday 15 June | | Open | 1 |
| L. & G. Singles Stableford 50+ | Wednesday 22 June | | Open | 1 |
| L. & G. Singles Stableford | Wednesday 29 June | | Open | 1 |
| L. & G. Singles Stableford | Wednesday 6 July | | Open | 1 |
| L. & G. Seniors Singles Stableford | Monday 11 July | | Open | 1 |
| L. & G. Singles Stableford | Wednesday 13 July | | Open | 1 |
| Start of Open Week | Friday 15 July | Sunday 24 July | Open | 10 |
| L. & G. Singles Stableford | Friday 15 July | | Open | 1 |
| L. & G. Singles Stableford | Saturday 16 July | | Open | 1 |
| L. & G. 4-Person Scramble | Sunday 17 July | Monday 18 July | Open | 2 |
| L. & G. 4-Person Scramble | Monday 18 July | | Open | 1 |
| L. & G. 4-Ball Betterball | Tuesday 19 July | Wednesday 20 July | Open | 2 |
| L. & G. 4-Ball Betterball | Wednesday 20 July | | Open | 1 |
| L. & G. 4-Person Team Event | Thursday 21 July | Friday 22 July | Open | 2 |
| L. & G. 4-Person Team Event | Friday 22 July | | Open | 1 |
| L. & G. Singles Stableford | Saturday 23 July | Sunday 24 July | Open | 2 |
| L. & G. Singles Stableford | Sunday 24 July | | Open | 1 |
| L. & G. Seniors Singles Stableford | Monday 25 July | | Open | 1 |
| L. & G. Singles Stableford | Wednesday 27 July | | Open | 1 |
| L. & G. Singles Stableford | Monday 1 August | | Open | 1 |
| L. & G. Singles Stableford | Wednesday 3 August | | Open | 1 |
| Inter. Scratch Cup | Saturday 6 August | Sunday 7 August | Open | 2 |
| Inter. Scratch Cup | Sunday 7 August | | Open | 1 |
| L. & G. Seniors Singles Stableford | Monday 8 August | | Open | 1 |
| L. & G. Singles Stableford | Wednesday 10 August | | Open | 1 |
| L. & G. 2-Person Team Event | Saturday 13 August | | Open | 1 |
| L. & G. Singles Stableford | Wednesday 17 August | | Open | 1 |
| L. & G. Singles Stableford | Wednesday 24 August | | Open | 1 |
| L. & G. Singles Stableford | Wednesday 31 August | | Open | 1 |
| L. & G. Seniors Singles Stableford | Monday 5 September | | Open | 1 |
| L. & G. Singles Stableford | Wednesday 7 September | | Open | 1 |
| L. & G. Singles Stableford | Wednesday 14 September | | Open | 1 |
| L. & G. Seniors Singles Stableford | Monday 19 September | | Open | 1 |
| L. & G. Singles Stableford | Wednesday 21 September | | Open | 1 |
| L. & G. 2-Person Team Event | Sunday 25 September | | Open | 1 |
| L. & G. Singles Stableford | Wednesday 5 October | | Open | 1 |
| L. & G. Singles Stableford | Wednesday 12 October | | Open | 1 |
| L. & G. Seniors Singles Stableford | Monday 17 October | | Open | 1 |
| L. & G. Singles Stableford | Wednesday 19 October | | Open | 1 |
| L. & G. Singles Stableford | Wednesday 26 October | | Open | 1 |
| L. & G. 4-Person Team Event | Saturday 29 October | Sunday 30 October | Open | 2 |
| L. & G. 4-Person Team Event | Sunday 30 October | | Open | 1 |
| L. & G. Singles Stableford | Monday 31 October | | Open | 1 |
| L. & G. Singles Stableford | Wednesday 2 November | | Open | 1 |
| L. & G. Singles Stableford | Wednesday 9 November | | Open | 1 |
| L. & G. Singles Stableford | Wednesday 16 November | | Open | 1 |
| L. & G. Singles Stableford | Wednesday 23 November | | Open | 1 |
| L. & G. Singles Stableford | Monday 26 December | Saturday 31 December | Open | 2 |
| L. & G. Singles Stableford | Tuesday 27 December | | Open | 1 |
| L. & G. Fourball | Wednesday 28 December | Thursday 29 December | Open | 2 |
| L. & G. Fourball | Thursday 29 December | | Open | 1 |
| L. & G. 4-Person Team Event | Friday 30 December | Saturday 31 December | Open | 2 |
| L. & G. 4-Person Team Event | Saturday 31 December | | Open | 1 |
*Please check information before travelling
Card of the Course
| | |
| --- | --- |
| White | Par 72 SSS 71 6,728 yd's |
| Red | Par 72 SSS 72 5,581 yd's |
| Green | Par 72 SSS 71 6,291 yd's |
| Blue | Par 72 SSS 75 7,164 yd's |
Card
| | | | | | | | | |
| --- | --- | --- | --- | --- | --- | --- | --- | --- |
| Hole No | Black | White | Green | Par | Index | Red | Par | Index |
| 1 | 585 | 558 | 526 | 5 | 8 | 469 | 5 | 2 |
| 2 | 473 | 450 | 427 | 4 | 2 | 377 | 4 | 4 |
| 3 | 577 | 550 | 514 | 5 | 6 | 466 | 5 | 6 |
| 4 | 395 | 372 | 336 | 4 | 12 | 306 | 4 | 10 |
| 5 | 220 | 208 | 194 | 3 | 4 | 176 | 3 | 14 |
| 6 | 378 | 360 | 339 | 4 | 10 | 305 | 4 | 8 |
| 7 | 214 | 182 | 158 | 3 | 16 | 137 | 3 | 18 |
| 8 | 529 | 494 | 463 | 5 | 14 | 391 | 5 | 12 |
| 9 | 313 | 296 | 282 | 4 | 18 | 261 | 4 | 16 |
| Out | 3,684 | 3,470 | 3,239 | 37 | | 2,888 | 37 | |
| 10 | 377 | 361 | 344 | 4 | 15 | 304 | 4 | 5 |
| 11 | 415 | 393 | 372 | 4 | 11 | 331 | 4 | 9 |
| 12 | 452 | 425 | 395 | 4 | 7 | 349 | 4 | 11 |
| 13 | 407 | 388 | 367 | 4 | 5 | 304 | 4 | 7 |
| 14 | 193 | 180 | 166 | 3 | 17 | 145 | 3 | 15 |
| 15 | 453 | 407 | 363 | 4 | 3 | 325 | 4 | 1 |
| 16 | 468 | 432 | 409 | 4 | 1 | 360 | 4 | 3 |
| 17 | 180 | 166 | 156 | 3 | 13 | 145 | 4 | 17 |
| 18 | 535 | 506 | 480 | 5 | 19 | 430 | 5 | 13 |
| In | 3,480 | 3,258 | 3,052 | 35 | | 2,693 | 35 | |
| Total | 7,164 | 6,728 | 6,291 | 72 | | 5,581 | 72 | |
| SSS | 75 | 73 | 71 | | | 72 | | |
Notable rounds
Men's Course Record Ian Kerr 67
Ladies Course Record
Members Achievements
History of Bunclody Golf & Fishing Club
Roll of Honour
| | | |
| --- | --- | --- |
| Member | Year | Hon. Position |
| Ciaran Redmond | 2009 | Men's Captain |
| Nick Byrne | 2009 | President |
| Barty Byrne | 2010 | Men's Captain |
| Nick Byrne | 2010 | President |
| Margaret Byrne | 2011 | Lady Captain |
| Frances Crean | 2011 | Lady President |
| Michael Cowman | 2011 | Men's Captain |
| James Conway | 2001 | President |
| Elizabeth Byrne | 2012 | Lady Captain |
| Frances Crean | 2012 | Lady President |
| Tony Byrne | 2012 | Men's Captain |
| James Conway | 2012 | President |
| Alice Druhan | 2013 | Lady Captain |
| Brid St. Ledger | 2013 | Lady President |
| Peter Crean | 2013 | Men's Captain |
| Barty Byrne | 2013 | President |
| Fiona Bodels | 2014 | Lady Captain |
| Brid St. Ledger | 2014 | Lady President |
| Pat Hanrick | 2014 | Men's Captain |
| Barty Byrne | 2014 | President |
| Mary Jordan | 2015 | Lady Captain |
| Marita Byrne | 2015 | Lady President |
| Pat St. Ledger | 2015 | Men's Captain |
| Ciaran Redmond | 2015 | President |
| Ethel Deacon | 2016 | Lady Captain |
| Marita Byrne | 2016 | Lady President |
| Nick Byrne | 2016 | Men's Captain |
| Ciaran Redmond | 2016 | President |
| Siobhán Moore | 2017 | Lady Captain |
| Fiona Bodels | 2017 | Lady President |
| James Conway | 2017 | Men's Captain |
| Mick Cowman | 2017 | President |
| Joanne Kenny | 2018 | Lady Captain |
| Fiona Bodels | 2018 | Lady President |
| Willie Doyle | 2018 | Men's Captain |
| Mick Cowman | 2018 | President |
| Elizabeth Doyle | 2019 | Lady Captain |
| Evelyn Mulrennan | 2019 | Lady President |
| Rory Kinsella | 2019 | Men's Captain |
| Tom Byrne | 2019 | President |
| Bernie Foley | 2020 | Lady Captain |
| Evelyn Mulrennan | 2020 | Lady President |
| Dan O'Leary | 2020 | Men's Captain |
| Tom Byrne | 2020 | President |
| Mary Jordan | 2021 | Lady Captain |
| Marita Byrne | 2021 | Lady President |
| Adrian Dunne | 2021 | Men's Captain |
| Peter Crean | 2021 | President |
| Monica Mernagh | 2022 | Lady Captain |
| Marita Byrne | 2022 | Lady President |
| Tony Ensor | 2022 | Men's Captain |
| Peter Crean | 2022 | President |
| Rory McCarthy +1 | 2022 | Lowest Men's H'cap |
Holes in One at Bunclody Golf & Fishing Club
| | | | | |
| --- | --- | --- | --- | --- |
| Member | Date | Hole No. | Club Used | Distance |
| Pat Hanrick | August 2009 | 5th | | 208 yd's |
| Marita Byrne | July 2010 | 17th | | 145 yd's |
| Margaret Byrne | October 2012 | 14th | | 145 yd's |
| Martina Bennett | May 2014 | 14th | | 145 yd's |
| Willie Doyle | July 2014 | 7th | | 182 yd's |
| Fran Crean | July 2014 | 14th | | 180 yd's |
| Graham Porter | February 2016 | 7th | | 182 yd's |
| Mick Egan | 29 June 2022 | | | |
| Martin Bennett | 31 July 2022 | | | |