Tubbercurry golf club
Sligo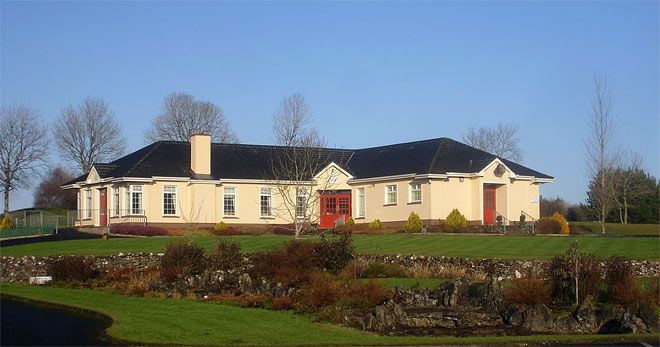 Tubbercurry Golf Course
Tubbercurry Golf Club is located at the foot of the majestic Ox Mountains. This is a scenic 9-hole golf course with charming views of the Croagh Patrick. True to his excellent design standards, renowned golf architect Eddie Hackett has created a worthy gem of a course on this awe-inspiring landscape. 15 minutes from Knock Airport, 30 minutes from Sligo Town, Tubbercurry Golf Course offers a picturesque and challenging 9 hole course.
The 6,200yd course has full clubhouse facilities and a warm welcome from all of our members. A popular parkland golf course, playable all year long. The various hazards spread cleverly over the terrain of the course serve to humble the cocksure golfers and make playing here fun and exciting. Care is advised with the approach shots due to the presence of bunkers on all of the well manicured greens.
Phone: +353 (0)71-9185849
E-mail: tubbercurrygolfclub@gmail.com

| | |
| --- | --- |
| Green Fees Midweek: | €20 |
| Green Fees Weekends & B.H.: | €20 |
| Green Fees with a Member: | €15 |
| Green Fees for Opens: | €7 |
| Practice Area: | Yes |
| Club Hire: | No |
| Buggy Hire: | Yes |
| Soft Spikes: | No |
| Open for Membership: | Yes |
| Full Membership Fee: | €450 |
| Full Family Membership Fee: | €725 |
| Full 1st Year Beginner Membership Fee: | €195 |
| Full 2nd Year Beginner Membership Fee: | €290 |
| Full 3rd Year Beginner Membership Fee: | €370 |
| Full Country Membership Fee: | €230 |
| Full Country Family Membership Fee: | €320 |
| Full Student Membership Fee: | €135 |
| Full Junior Membership Fee: | €65 |
| | |
Secretary/Manager:

Paul Durcin

Captain:

Paul O'Donnell

Lady Captain:

Philomena O'Connor

PresidentS':

Tommy Kelly

&

Bridie Feehily

Vice-Captains':


Hon. Secretary:

Brian Henry

&

Maureen Gallagher

Club Pro:
None
Hon. Treasurer:

Paul F. O'Donnell

& Mary Kilcoyne
Comp. Secretary:

Brendan Murphy

&

Mary Conway
Course Layout
Location Map
GPS Coord*
Lat:54.054329
Long:-8.716104
*Please check information before travelling
General Facts & Information
| | |
| --- | --- |
| Course opening hours: Daylight hours | Clubhouse opening hours: 12.00am to 11.30pm |
| Mobile phones: Not on course | Dress Code: Neat and casual, no denim |
| Catering: Full catering, facilities | Days to Avoid: Sundays |
| Green Fees and Societies Welcome: Other days | Pre-booking for open Tournaments: 14 Days in advance |
Tubbercurry Golf Club Fixtures 2023 provisional*
| | | | | |
| --- | --- | --- | --- | --- |
| Open & Major Fixtures 2023 (to be Confirmed) | | | | |
| Event | Start | Finish | Type | Duration |
| Captains' Drive-In | Sunday | | Closed | 1 |
| Captain's Prize to the Ladies & Juniors | Saturday 17 June | | Closed | 1 |
| Captain's Prize | Sunday 18 June | | Closed | 1 |
| Lady Captain's Prize to the Men & Juniors | Monday 10 July | | Closed | 1 |
| Lady Captain's Prize | Sunday 15 July | | Closed | 1 |
| President's Prize to the Ladies & Juniors | Monday 16 July | | Closed | 1 |
| President's Prize | Saturday 24 July | | Closed | 1 |
| Lady President Prize to the Men & Juniors | Monday 7 August | | Closed | 1 |
| Lady President Prize | Sunday 13 August | | Closed | 1 |
| Singles Stableford | Friday 17 March | Sunday 19 March | Open | 3 |
| Singles Stableford | Saturday 18 March | | Open | 1 |
| Singles Stableford | Sunday 19 March | | Open | 1 |
| Singles Stableford | Saturday 8 April | Monday 10 April | Open | 3 |
| Singles Stableford | Sunday 9 April | | Open | 1 |
| Singles Stableford | Monday 10 April | | Open | 1 |
| Singles Stableford | Saturday 29 April | Monday 1 May | Open | 3 |
| Singles Stableford | Sunday 30 April | | Open | 1 |
| Singles Stableford | Monday 1 May | | Open | 1 |
| Singles Stableford | Saturday 3 June | Monday 5 June | Open | 3 |
| Singles Stableford | Sunday 4 June | | Open | 1 |
| Singles Stableford | Monday 5 June | | Open | 1 |
| Connacht R&A 9-Hole Challenge Regional Qualifier | Friday 9 June | | G.I. | 1 |
| Singles Stableford | Saturday 5 August | Monday 7 August | Open | 3 |
| Singles Stableford | Sunday 6 August | | Open | 1 |
| Singles Stableford | Monday 7 August | | Open | 1 |
| AIG All Ireland Inter-Club Quarter-finals (Connacht Vs Ulster S) | Saturday 2 September | | G.I. | 1 |
| 18-Hole 3-Ball Rumble | Saturday 228 October | | Open | 1 |
| 18-Hole Strokes | Sunday 29 October | Monday 30 Octobe | Open | 2 |
| 9-Hole Strokes | Monday 30 October | | Open | 1 |
*Please check information before travelling
Card of the Course
| | |
| --- | --- |
| White | Par 71 SSS 68 6,097 yd's |
| Red | Par 72 SSS 71 5,302 yd's |
| Green | Par 71 SSS 65 5,804 yd's |
Card
| | | | | | | | |
| --- | --- | --- | --- | --- | --- | --- | --- |
| Hole No. | White | Green | Par | Index | Red | Par | Index |
| 1 | 354 | 292 | 4 | 12 | 292 | 4 | 11 |
| 2 | 148 | 136 | 3 | 18 | 126 | 4 | 17 |
| 3 | 447 | 349 | 5 | 10 | 344 | 4 | 3 |
| 4 | 414 | 385 | 4 | 2 | 385 | 3 | 15 |
| 5 | 350 | 330 | 4 | 6 | 330 | 4 | 1 |
| 6 | 168 | 168 | 3 | 16 | 168 | 5 | 7 |
| 7 | 459 | 423 | 5 | 8 | 403 | 4 | 0 |
| 8 | 408 | 327 | 4 | 4 | 327 | 3 | 5 |
| 9 | 398 | 279 | 4 | 17 | 271 | 5 | 13 |
| Out | 3,046 | 2,902 | 36 | | 2,646 | 36 | |
| 10 | 354 | 293 | 4 | 13 | 292 | 4 | 12 |
| 11 | 156 | 156 | 3 | 15 | 138 | 4 | 18 |
| 12 | 376 | 376 | 4 | 9 | 344 | 4 | 4 |
| 13 | 395 | 385 | 4 | 3 | 385 | 3 | 16 |
| 14 | 370 | 330 | 4 | 5 | 330 | 4 | 2 |
| 15 | 182 | 182 | 3 | 11 | 168 | 5 | 18 |
| 16 | 449 | 423 | 5 | 7 | 403 | 4 | 10 |
| 17 | 417 | 327 | 4 | 1 | 327 | 3 | 16 |
| 18 | 325 | 279 | 4 | 14 | 271 | 5 | 4 |
| In | 3,051 | 2,902 | 35 | | 2,666 | 36 | |
| Total | 6,097 | 5,804 | 71 | | 5,302 | 72 | |
| SSS | 68 | 65 | | | 71 | | |
Notable rounds
Men's Course Record: 66 Ronan Farkin (7) 2/6/2013
Ladies Course Record:
Members Achievements
The Ladies of Tubbercurry Golf Club qualified for the All-Ireland Quarter-Final of the Challenge Cup at Slieve Russell Golf Club on Friday 9th September 2022 and lost their match against Headfort Golf Club by 3-matches to 2-matches.
First on the tee was Ann Conlon who won her match by 4 and 3 against Mary Farrelly, she was followed by Brigie Clarke who lost her match against Mary Bowler by 2 and 1, next on the tee was Mary Costello who lost out by 3 and 2 against Elaine Duffy, in the penultimate match Mary Johnston win her match against Pamela Strong by 2 and 1, in the bottom and deciding match Ann Scanlon lost out to Ellen Castles by 2-holes.
Tubbercurry Golf Club won the Final of the Connacht Shield Champions on a hard fought victory over Portumna Golf Club in 2021.
Tubbercurry Golf Club won the Connacht Final of the 9-Hole Clubs' Championship when they beat Achill Island Golf Club in the Final on 24th October 2021.
Congratulations to Ronan Forkin who set a new club members' course record on June 2nd (2013) when he shot a 66 gross (Par 70) playing off a handicap of 7. This excellent performance included seven birdies.
The Ladies of Tubbercurry Golf Club won the Connaught Cup in 2004, when the team was Ann Breheny, Betty Scanlon, Kathleen Grady, Christine Hannon and Breege Walsh.
M. Clarke qualified for the National Finals of Irish Times-Mitsubishi Motors Women's Masters. She returned 33 points in semi-final at Glasson Golf Hotel & Country Club on 23rd August 2001. Then it was to Galway Bay Final 13th September.
Prior to 2001:
Tubbercurry won the Jack O'Sullivan Trophy in 2000.
Tubbercurry won the Connacht Shield in 1997.
They won the Jack O'Sullivan Trophy in 1998.
They were runners-up in the Connacht Shield in 1999.
Members who played representative golf for their Province;
Simon Ginty represented Connacht at the Boys Interprovincial from 2004 to 2005 playing 9-times won 5-matches halved two and lost 2-matches accumulating 12-points;
History of Tubbercurry
Roll of Honour
| | | |
| --- | --- | --- |
| Member | Year | Hon. Position |
| Padraig Kennedy | 1991 | Men's Captain |
| Eamon Gallagher | 1991 | President |
| Joe Burke | 1992 | Men's Captain |
| Tom Colleary | 1992 | President |
| Charlie Scanlon | 1993 | Men's Captain |
| Tommy Joe Murphy | 1993 | President |
| Eamon Gallagher | 1994 | Men's Captain |
| | 1995 | Ladies Captain |
| Pat Ridge | 1995 | Men's Captain |
| Pearse Henry | 1995 | President |
| Mrs Monica Wynne | 1996 | Ladies Captain |
| Stephen Wynne | 1996 | Men's Captain |
| Pearse Henry | 1996 | President |
| Mrs Bride Feehily | 1997 | Ladies Captain |
| Patrick Cawley | 1997 | Men's Captain |
| Peter King | 1997 | President |
| Mrs. Kathleen Grady | 1998 | Ladies Captain |
| Gerry Connolly | 1998 | Men's Captain |
| Peter King | 1998 | President |
| Patricia Cawley | 1999 | Ladies Captain |
| Billy Kilgannon | 1999 | Men's Captain |
| Gerry Hannigan | 1999 | President |
| Ann Scanlon | 2000 | Ladies Captain |
| Tommy Clarke | 2000 | Men's Captain |
| Charlie Scanlon | 2000 | President |
| Breege Walsh | 2001 | Ladies Captain |
| Tommy Grady | 2001 | Men's Captain |
| Charlie Scanlon | 2001 | President |
| Geraldine Ring | 2002 | Ladies Captain |
| Padraig McDonagh | 2002 | Men's Captain |
| Charlie Scanlon | 2002 | President |
| Betty Scanlon | 2003 | Ladies Captain |
| Ann Brehony | 2003 | Ladies President |
| John Brennan | 2003 | Men's Captain |
| Joe Kilcoyne | 2003 | President |
| Geraldine Davey | 2004 | Ladies Captain |
| Ann Brehony | 2004 | Ladies President |
| Francis Haran | 2004 | Men's Captain |
| Joe Kilcoyne | 2004 | President |
| Frances Kennedy | 2005 | Ladies Captain |
| Maureen Durcan | 2005 | Ladies President |
| Tim Kelly | 2005 | Men's Captain |
| Anthony J. Hassion | 2005 | President |
| Mary K. Johnson | 2006 | Ladies Captain |
| Mary Barry | 2006 | Ladies President |
| Harold McManus | 2006 | Men's Captain |
| Anthony J. Hassion | 2006 | President |
| Christine Hannan | 2007 | Ladies Captain |
| Kathleen Grady | 2007 | Ladies President |
| Joe Quinn | 2007 | Men's Captain |
| Kieran Durkin | 2007 | President |
| Mary Kilcoyne | 2008 | Ladies Captain |
| Ann Scanlon | 2008 | Ladies President |
| John Gillespie | 2008 | Men's Captain |
| Denis Scanlon | 2008 | President |
| Mary Costello | 2009 | Ladies Captain |
| Bridgie Clarke | 2009 | Ladies President |
| Tommy Kelly | 2009 | Men's Captain |
| Denis Scanlon | 2009 | President |
| Ann Conlon | 2010 | Ladies Captain |
| Mary Kennedy | 2010 | Ladies President |
| Frank Durkin | 2010 | Men's Captain |
| Tommie Grady | 2010 | President |
| Andrea Hewitt | 2011 | Ladies Captain |
| Breege Walshe | 2011 | Ladies President |
| Brendan Leonard | 2011 | Men's Captain |
| Billy Kilgannon | 2011 | President |
| Eilish Brett | 2012 | Ladies Captain |
| Mary Kilcoyne | 2012 | Ladies President |
| John O'Flaherty | 2012 | Men's Captain |
| Pat Ridge | 2012 | President |
| Brid Leonard | 2013 | Ladies Captain |
| Geraldine Ridge | 2013 | Ladies President |
| Porick Murray | 2013 | Men's Captain |
| Pat Crawley | 2013 | President |
| Mary Conway | 2014 | Ladies Captain |
| Betty Scanlon | 2014 | Ladies President |
| Joe Kilcoyne | 2014 | Men's Captain |
| Joe Burke | 2014 | President |
| Brid McLoughlin | 2015 | Ladies Captain |
| Frances Kennedy | 2015 | Ladies President |
| James Marren | 2015 | Men's Captain |
| John Murphy | 2015 | President |
| Pat Kelly | 2016 | Ladies Captain |
| Geraldine Davey | 2016 | Ladies President |
| John T. Marren | 2016 | Men's Captain |
| Eamon McGinley | 2016 | President |
| Marie O'Hara | 2017 | Ladies Captain |
| Mary McTiernan | 2017 | Ladies President |
| Gerry Hannigan | 2017 | Men's Captain |
| Luke Brennan | 2017 | President |
| Agnes Durkin | 2018 | Ladies Captain |
| Michael Gorman | 2018 | Men's Captain |
| Peter Gallagher | 2018 | President |
| Eileen Murtagh | 2019 | Ladies Captain |
| James Maguire | 2019 | Men's Captain |
| Johnny Finan | 2019 | President |
| Maureen Gallagher | 2020 | Ladies Captain |
| Mary Costello | 20200 | Ladies President |
| Luke O' Connor | 2020 | Men's Captain |
| Paddy Colleran | 2020 | President |
| Nuala O'Donnell | 2021 | Ladies Captain |
| Ann Conlon | 2021 | Ladies President |
| Michael Durcan | 2021 | Men's Captain |
| Frank Durkin | 2021 | President |
| Nuala O'Donnell | 2022 | Ladies Captain |
| Bridie Feehily | 2022 | Ladies President |
| Mark Burke | 2022 | Men's Captain |
| Tommy Kelly | 2022 | President |
| Philomena O'Connor | 2023 | Ladies Captain |
| | 2023 | Ladies President |
| Paul O'Donnell | 2023 | Men's Captain |
| Tommy Cryan | 2023 | President |
| Batty Scanlon (17.5) | 2022 | Lowest Ladies Handicap |
| Simon Ginty (2) | 2022 | Lowest Men's Handicap |
Holes in One at Tubbercurry
| | | | | |
| --- | --- | --- | --- | --- |
| Member | Date | Hole No. | Club Used | Distance |
| Eamon Gallagher | 5 May 2001 | 4th | | 145 m |
| Tim O'Kelly | 9 June 2003 | 8th | | 156 m |
| Padraig Scanlon | 20 June 2003 | 4th | | 138 m |
| Tim Kelly | 23 June 2003 | 4th | | 138 m |
| Tim Kelly | 4 July 2004 | 17th | | 168 m |
| Brian Ginty | 31 July 2005 | 13th | | 147 m |
| Aiden Brennan | 23 March 2009 | 4th | | 138 m |
| Ann Mulligan | 25 May 2022 | | | |