South Meath golf club
Meath
South Meath Golf Course
Trim Castle the setting for Braveheart, is only a short distance away from this very pleasant parkland course. The Course was designed with wide fairways and beautiful mature trees. The generous greens provide an extra bonus. If you are seeking a challenge this course will provide the test.
Original layout Designed by Eddie Hacket, Ireland's foremost golf course designer.The present 18 hole layout, with several water features presents a fair test for golfers of all standards.
Feature holes include the 7th and 8th. Two challenging par 3s that are surrounded by water, require well executed shots to avoid trouble.
South Meath Golf Club is located 1 mile outside of Trim, Co. Meath on the Longwood Road, 30 minutes from Dublin. It consists of a full 18 hole course, with many challenging new holes, offering great golf at affordable prices.
The 16th is also another card defining hole, a 400 yard par 4 requiring precision approach shot through a tree lined fairway.
Green fees and societies are welcome.
| | |
| --- | --- |
| Green Fees Midweek: | €15 |
| Green Fees Weekends & B.H.: | €20 |
| Green Fees with a Member: | €15/20 |
| Green Fees for Opens: | €10 |
| Practice Area: | Yes |
| Club Hire: | Yes |
| Buggy Hire: €20 | Yes |
| Soft Spikes: | No |
| Membership Available: | Yes |
| Full Membership Fee: | €450 |
| Full Family Membership Fee: | €650 |
| Full 5-Day Membership Fee: | €290 |
| Full Student Membership Fee: | €150 |
| Full Junior Membership Fee: | €80 |
| Entrance Fee: | None |
Secretary/Manager:
Jody Keegan
Captain:
Brendan Harmon
Lady Captain:
Svetlana Kostadinova
Presidents':
Micheal O'Flatharta & Betty Beirne
Vice-Captains':
Gerry O'Donnell & Liz Blake
Hon. Secretary:
Martin Walsh & Liz Blake
Club Pro:
None
Hon. Treasurer:
Gerry Bradley & Anne McDermott
Comp. Secretary:
Paul Harris &

Kate McElwain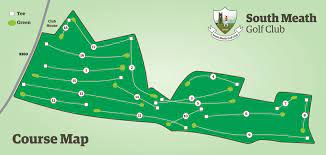 Course Layout
Location Map
GPS Coord*
Lat:53.532921
Long:-6.821531
*Please check information before travelling
General Facts & Information
| | |
| --- | --- |
| Course opening hours: Daylight hours | Clubhouse opening hours: 9.00am to dusk |
| Mobile phones: Not on course | Dress Code: Neat and casual, no denim |
| Catering: Full catering, facilities | Days to Avoid: None |
| Green Fees and Societies Welcome: Midweek & Weekends | Pre-booking for open Tournaments:14 Days in advance |
South Meath Golf Club Fixtures 2023 provisional*
| | | | | |
| --- | --- | --- | --- | --- |
| Open & Major Fixtures 2023 (Confirmed) | | | | |
| Event | Start | Finish | Type | Duration |
| Captains' Drive-In | Sunday 26 March | | Closed | 1 |
| Vice-Captain's Prize | Saturday 27 May | Sunday 28 May | Closed | 2 |
| Vice-Captain's Prize | Sunday 28 May | | Closed | 1 |
| Lady President's Prize | Sunday | | Closed | 1 |
| President's Prize | Saturday 17 June | Sunday 18 June | Closed | 2 |
| President's Prize | Sunday 18 June | | Closed | 1 |
| Lady Captain's Prize Round 1 | Saturday 2 July | | Closed | 1 |
| Lady Captain's Prize Final Round | Saturday 9 July | | Closed | 1 |
| Lady Vice-Captain's Prize | Saturday 6 August | | Closed | 1 |
| Captain's Prize Round 1 | Saturday 6 August | Sunday 7 August | Closed | 2 |
| Captain's Prize Round 1 | Sunday 7 August | | Closed | 1 |
| Captain's Prize | Saturday 13 August | | Closed | 1 |
| L. & G. Seniors Singles Stableford | Tuesday 25 April | | Open | 1 |
| L. & G. Seniors Singles Stableford | Tuesday 30 May | | Open | 1 |
| L. & G. Singles Stableford | Saturday 3 June | Sunday 4 June | Open | 2 |
| L. & G. Singles Stableford | Sunday 4 June | | Open | 1 |
| Junior Scratch Cup | Saturday 24 June | Sunday 25 June | Open | 2 |
| Junior Scratch Cup | Sunday 25 June | | Open | 1 |
| Inter. Scratch Cup | Saturday 24 June | Sunday 25 June | Open | 2 |
| Inter. Scratch Cup | Sunday 25 June | | Open | 1 |
| Minor Scratch Cup | Saturday 24 June | Sunday 25 June | Open | 2 |
| Minor Scratch Cup | Sunday 25 June | | Open | 1 |
| L. & G. Seniors Singles Stableford | Tuesday 27 June | | Open | 1 |
| 4-Ball Classic | Saturday 27 August | | Open | 1 |
*Please check information before travelling
Card of the Course
| | |
| --- | --- |
| White | Par 69 SSS 68 5,445 m |
| Red | Par 69 SSS 69 4,572 m |
Card
| | | | | | | |
| --- | --- | --- | --- | --- | --- | --- |
| Hole No. | White | Par | Index | Red | Par | Index |
| 1 | 347 | 4 | 10 | 284 | 4 | 10 |
| 2 | 333 | 4 | 8 | 289 | 4 | 8 |
| 3 | 353 | 4 | 14 | 318 | 4 | 14 |
| 4 | 253 | 4 | 16 | 183 | 4 | 16 |
| 5 | 233 | 4 | 18 | 173 | 4 | 18 |
| 6 | 348 | 4 | 6 | 281 | 4 | 6 |
| 7 | 147 | 3 | 12 | 120 | 3 | 12 |
| 8 | 148 | 3 | 4 | 122 | 3 | 4 |
| 9 | 522 | 5 | 5 | 438 | 5 | 5 |
| Out | 2,684 | 35 | | 2,208 | 35 | |
| 10 | 144 | 3 | 15 | 124 | 3 | 15 |
| 11 | 413 | 4 | 1 | 283 | 4 | 1 |
| 12 | 299 | 4 | 11 | 285 | 4 | 11 |
| 13 | 541 | 5 | 5 | 475 | 5 | 5 |
| 14 | 173 | 3 | 7 | 163 | 3 | 7 |
| 15 | 375 | 4 | 9 | 317 | 4 | 9 |
| 16 | 398 | 4 | 3 | 344 | 4 | 3 |
| 17 | 318 | 4 | 13 | 276 | 3 | 13 |
| 18 | 100 | 3 | 17 | 97 | 3 | 17 |
| In | 2,761 | 34 | | 2,364 | 34 | |
| Total | 5,445 | 69 | | 4,572 | 69 | |
| SSS | 69 | | | 69 | | |
Notable rounds
Men's Course Records:
Ladies Course Record:
Members Achievements
History of South Meath
Roll of Honour
| | | |
| --- | --- | --- |
| Member | Year | Hon. Position |
| | 1998 | Ladies Captain |
| | 1998 | Ladies President |
| | 1998 | Men's Captain |
| | 1998 | President |
| | 1999 | Ladies Captain |
| | 1999 | Ladies President |
| | 1999 | Men's Captain |
| | 1999 | President |
| | 2000 | Ladies Captain |
| | 2000 | Ladies President |
| | 2000 | Men's Captain |
| | 2000 | President |
| | 2001 | Ladies Captain |
| | 2001 | Ladies President |
| | 2001 | Men's Captain |
| | 2001 | President |
| | 2002 | Ladies Captain |
| | 2002 | Ladies President |
| | 2002 | Men's Captain |
| | 2002 | President |
| | 2003 | Ladies Captain |
| | 2003 | Ladies President |
| | 2003 | Men's Captain |
| | 2003 | President |
| | 2004 | Ladies Captain |
| | 2004 | Ladies President |
| | 2004 | Men's Captain |
| | 2004 | President |
| | 2005 | Ladies Captain |
| | 2005 | Men's Captain |
| | 2006 | Ladies Captain |
| | 2006 | Men's Captain |
| | 2007 | Ladies Captain |
| | 2007 | Men's Captain |
| | 2008 | Ladies Captain |
| | 2008 | Men's Captain |
| Murial Ennis | 2009 | Ladies Captain |
| Mick Dunne | 2009 | Men's Captain |
| Anne O'Brien | 2010 | Ladies Captain |
| Margaret O'Rafferty | 2010 | Ladies President |
| Sean Garrigan | 2010 | Men's Captain |
| Jody Keegan | 2010 | President |
| Kate McElwain | 2011 | Ladies Captain |
| Bregid Guy | 2011 | Ladies President |
| James Regan | 2011 | Men's Captain |
| Jody Keegan | 2011 | President |
| Teresa Meaney | 2012 | Ladies Captain |
| Brigid Guy | 2012 | Ladies President |
| Martin Fagan | 2012 | Men's Captain |
| Jody Keegan | 2012 | President |
| Bernie McCann | 2013 | Ladies Captain |
| Nora Duffy | 2013 | Ladies President |
| Gerry Argue | 2013 | Men's Captain |
| Jody Keegan | 2013 | President |
| Kathleen Farrell | 2014 | Ladies Captain |
| Nora Duffy | 2014 | Ladies President |
| Martin Walsh | 2014 | Men's Captain |
| Jody Keegan | 2014 | President |
| | 2015 | Ladies Captain |
| Nora Duffy | 2015 | Ladies President |
| Enda Smith | 2015 | Men's Captain |
| Jody Keegan | 2015 | President |
| Anne-Marie Dempsey | 2016 | Ladies Captain |
| Kathleen Farrell | 2016 | Ladies President |
| | 2016 | Men's Captain |
| Jody Keegan | 2016 | President |
| Joan Nolan | 2017 | Ladies Captain |
| Kathleen Farrell | 2017 | Ladies President |
| Eamon Ward | 2017 | Men's Captain |
| Raymond Kirby | 2017 | President |
| Nora Duffy | 2018 | Ladies Captain |
| Angela Ward | 2018 | Ladies President |
| Larry Wallace | 2018 | Men's Captain |
| Raymond Kirby | 2018 | President |
| Adrienne Cooke | 2019 | Ladies Captain |
| Angela Ward | 2019 | Ladies President |
| David Dempsey | 2019 | Men's Captain |
| Raymond Kirby | 2019 | President |
| Margaret O'Rafferty | 2020 | Ladies Captain |
| Angela Ward | 2020 | Ladies President |
| Don Costello | 2020 | Men's Captain |
| Raymond Kirby | 2020 | President |
| Margaret O'Rafferty | 2021 | Ladies Captain |
| | 2021 | Ladies President |
| Don Costello | 2021 | Men's Captain |
| Micheal O'Flatharta | 2021 | President |
| Fiona Keegan | 2022 | Ladies Captain |
| Betty Beirne | 2022 | Ladies President |
| Brendan Harmon | 2022 | Men's Captain |
| Michael O'Flatharta | 2022 | President |
| Svetlana Kostadinova | 2023 | Ladies Captain |
| Betty Beirne | 2023 | Ladies President |
| Brendan Harmon | 2023 | Men's Captain |
| Michael O'Flatharta | 2023 | President |
| | 2023 | Lowest H'cap |
Holes in One at South Meath
| | | | | |
| --- | --- | --- | --- | --- |
| Member | Date | Hole No. | Club Used | Distance |
| | | | | |