Ashford Castle golf club
Mayo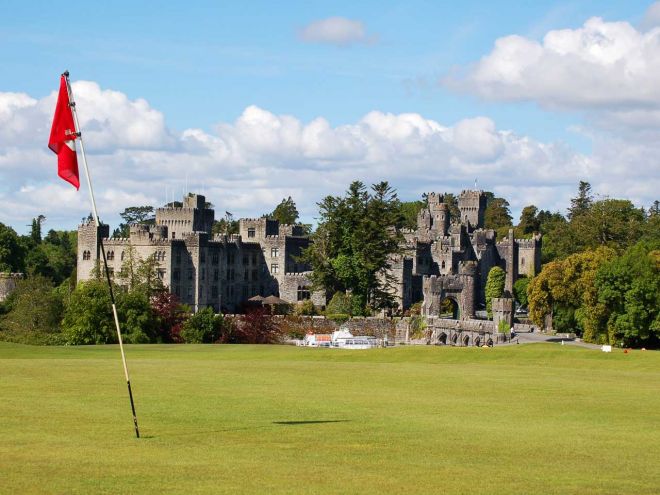 Ashford Castle Golf Course

This beautiful 9 hole 2,996 yards par 35 parkland course, provides the perfect environment for golfers of all ages to hone their skills. The course was designed by the renowned Irish golf architect, Eddie Hackett and was created with imaginative integration of natural features and hazzards, ensuring a marvelous contribution to the tough par 3's, exciting par 4's and formidable par 5.
What better way to compliment a stay at the 5 Star Ashford Castle than a 5 Star links golf experience. Let North & West Coast Links entertain you with some of the finest links golf courses in the world. Connemara, Carne, Enniscrone and Sligo are joined by Donegal, Rosapenna, Portsalon, Ballyliffin, Castlerock, Portstewart and Royal Portrush.
North & West Coast Links can organize tee times for you at any of these fantastic courses and all other courses throughout the country, as well as arranging luxury transport from Ashford Castle.


| | |
| --- | --- |
| Green Fees Midweek: | €20 |
| Green Fees Weekends & B.H.: | €20 |
| Green Fees with a Member: | N/A |
| Green Fees for Opens: | N/A |
| Practice Area: | Yes |
| Club Hire: | Yes |
| Buggy Hire: | No |
| Soft Spikes: | No |
| | |
| --- | --- |
| Secretary/Manager: | Sean Connelly |
| Captain: | None |
| Lady Captain: | None |
| President: | None |
| Vice-Captain: | None |
| Hon. Secretary: | None |
| Club Pro: | None |
| Hon. Treasurer: | None |
Course Layout
Location Map
GPS Coord*
Lat:53.538044
Long:-9.295906
*Please check information before travelling
General Facts & Information
| | |
| --- | --- |
| Course opening hours: Daylight hours | Clubhouse opening hours: Hotel |
| Mobile phones: Not on course | Dress Code: Neat and casual, no denim |
| Catering: Full catering and Bar in Hotel | Days to Avoid: None |
| Green Fees and Societies Welcome: Midweek & Weekends | Pre-booking for open Tournaments: None |
Ashford Castle Golf Club Fixtures 2021 provisional*
*Please check information before travelling
Card of the Course
| | |
| --- | --- |
| White | Par 70 SSS 5,992 yd's |
| Red | Par 70 SSS 5,992 yd's |
Card
| | | | | | | |
| --- | --- | --- | --- | --- | --- | --- |
| Hole No. | White | Par | Index | Red | Par | Index |
| 1 | 320 | 4 | 14 | 273 | 4 | 14 |
| 2 | 340 | 4 | 6 | 246 | 4 | 6 |
| 3 | 381 | 4 | 2 | 313 | 4 | 1 |
| 4 | 128 | 3 | 18 | 130 | 3 | 17 |
| 5 | 354 | 4 | 8 | 284 | 4 | 8 |
| 6 | 494 | 5 | 10 | 434 | 5 | 10 |
| 7 | 370 | 4 | 4 | 260 | 4 | 4 |
| 8 | 279 | 4 | 12 | 200 | 4 | 12 |
| 9 | 161 | 3 | 16 | 133 | 3 | 16 |
| Out | 2,829 | 35 | | 2,574 | 35 | |
| 10 | 370 | 4 | 13 | 297 | 4 | 13 |
| 11 | 360 | 4 | 5 | 325 | 4 | 5 |
| 12 | 391 | 4 | 1 | 321 | 4 | 2 |
| 13 | 136 | 3 | 17 | 132 | 3 | 18 |
| 14 | 384 | 4 | 7 | 345 | 4 | 7 |
| 15 | 546 | 5 | 9 | 447 | 5 | 9 |
| 16 | 381 | 4 | 3 | 276 | 4 | 4 |
| 17 | 289 | 4 | 11 | 272 | 4 | 11 |
| 18 | 191 | 3 | 15 | 159 | 3 | 15 |
| In | 3,048 | 35 | | 2,574 | 35 | |
| Total | 5,877 | 70 | | 4,847 | 70 | |
| SSS | | | | | | |
Members Achievements
History of Ashford Castle
Holes in One at Ashford Castle
| | | | | |
| --- | --- | --- | --- | --- |
| Member | Date | Hole No. | Club Used | Distance |
| | | | | |