Mayobridge golf club
Down
Mayobridge Golf Course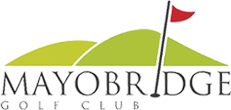 Up until recently Mayobridge was a 12 Hole Course, but the addition of two par 3's and four par 4's has brought the Course to a par 67 4,354 metre 18 Hole witha Standard Scratch of 63.
The Course is set amongst lakes mature woodland and old buildings, with spectacular views of the Mourne Mountains.
The course is a full 18-hole Par 67 layout that may not be the longest, but it more than makes up for that in its character & scenery which is in abundance around the course.
It is often said that Mayobridge Golf Club is unique in that it is played amongst old farm cottages from centuries past. The surroundings are quiet and picturesque. The course itself can be challenging to any standard of golfer with many water hazards and some tricky greens. Featuring only 1 par 5 but many , par 3 and par 4 holes it is a course that can be completed quite quickly in comparison to some, a good 2 ball should take no longer than 3 hours and a 4 ball just over 4 Hours. Many of our members find the course an ideal length.
With a lot of new machinery purchased over 2009 the course promises to be in top shape for the 2010 season and is constantly being improved upon. With the fantastic new clubhouse and restaurant the club is now showing people just how enjoyable golf is at Mayobridge.
Societies are welcome and group rates are available.
| | |
| --- | --- |
| Green Fees Midweek: | £12 |
| Green Fees Weekends & B.H.: | £16 |
| Green Fees with a Member: | £12/16 |
| Green Fees for Opens: | £10 |
| Practice Area: | Yes |
| Club Hire: | Yes |
| Buggy Hire: | Yes |
| Soft Spikes: | Yes |
| Full Membership Available: | Yes |
| Full Membership Fee: | £415 |
| Full Ladies Membership Fee: | £50? |
| Full Junior Membership Fee: | £153 |
| | |
| --- | --- |
| Secretary/Manager: | Damian McCloskey |
| Captain: | Joe Boyd |
| Lady Captain: | None |
| President: | Joe Fegan |
| Vice-Captain: | |
| Hon. Secretary: | Harry Addis |
| Club Pro: | Niel Heaney |
| Hon. Treasurer: | Ronan Campbell |
| Camp. Secretary: | Damian McCloskey |
Course Layout
Location Map
GPS Coord*
Lat:54.180672
Long:-6.230192
*Please check information before travelling
General Facts & Information
| | |
| --- | --- |
| Course opening hours: Daylight hours | Clubhouse opening hours: 9 .30am to 11.30pm |
| Mobile phones: Not on course | Dress Code: Neat and casual, no denim |
| Catering: Coffee Shop | Days to Avoid: None |
| Green Fees and Societies Welcome: Midweek & Weekends | Pre-booking for open Tournaments: 14 Days in advance |
Mayobridge Golf Club Fixtures 2019 provisional*
Open & Major Fixtures 2019 (to be Confirmed)
Event
Start
Finish
Event
Duration
Captain's Drive-In
Saturday 2 March
Sunday 3 March
Closed
2
Captain's Drive-In
Sunday 3 March
Closed
1
Captain's Prize
Saturday 20 July
Closed
1
36-Hole Strokes
Saturday 10 August
Sunday 11 August
Open
2
36-Hole Strokes
Sunday 11 August
Open
1
*Please check information before travelling
Card of the Course
| | |
| --- | --- |
| Red | Par 68 SSS 64 4,000 m |
| Blue | Par 67 SSS 63 4,652 m |
Card
| | | | | | | | |
| --- | --- | --- | --- | --- | --- | --- | --- |
| Name | Hole No. | Blue | Par | Index | Red | Par | Index |
| The Tailors | 1 | 242 | 4 | 17 | 242 | 4 | 17 |
| Beeches | 2 | 288 | 4 | 7 | 269 | 4 | 7 |
| Joeys Dip | 3 | 319 | 4 | 5 | 293 | 4 | 5 |
| Robs Rise | 4 | 119 | 3 | 15 | 119 | 3 | 15 |
| Oak Tree | 5 | 270 | 4 | 11 | 227 | 4 | 11 |
| Connolly's Garden | 6 | 120 | 3 | 13 | 111 | 3 | 13 |
| The Dog Leg | 7 | 258 | 4 | 9 | 215 | 4 | 9 |
| Long Lake | 8 | 372 | 4 | 1 | 328 | 4 | 1 |
| Bog Stone | 9 | 508 | 5 | 3 | 453 | 5 | 3 |
| | Out | 2,496 | 35 | | 2,257 | 35 | |
| Table Top | 10 | 246 | 4 | 12 | 187 | 4 | 12 |
| Murphy's Gulley | 11 | 136 | 3 | 18 | 118 | 3 | 18 |
| Crossan | 12 | 171 | 3 | 8 | 111 | 3 | 8 |
| Twin Lakes | 13 | 196 | 3 | 2 | 137 | 3 | 2 |
| Compass | 14 | 305 | 4 | 10 | 257 | 4 | 10 |
| Fairy Forth | 13 | 156 | 3 | 16 | 156 | 4 | 16 |
| Stoopes Rise | 16 | 306 | 4 | 6 | 240 | 4 | 6 |
| The Pipe | 17 | 355 | 4 | 4 | 319 | 4 | 4 |
| The Bucking Bull | 18 | 285 | 4 | 14 | 218 | 4 | 14 |
| | In | 2,156 | 32 | | 1,743 | 33 | |
| | Total | 4,652 | 67 | | 4,000 | 68 | |
| | SSS | 67 | | | 68 | | |
Members Achievements
History of Mayobridge
Roll of Honour
| | | |
| --- | --- | --- |
| Member | Year | Hon. Position |
| | 2005 | Ladies Captain |
| | 2005 | Men's Captain |
| | 2005 | President |
| | 2006 | Men's Captain |
| | 2006 | President |
| | 2007 | Men's Captain |
| | 2007 | President |
| | 2008 | Men's Captain |
| | 2008 | President |
| | 2009 | Men's Captain |
| | 2009 | President |
| Muredach Dynan | 2010 | Men's Captain |
| Joe Fegan | 2010 | President |
| Damian McCloskey | 2011 | Men's Captain |
| Joe Fegan | 2011 | President |
| Hugh O'Hara | 2012 | Men's Captain |
| Joe Fegan | 2012 | President |
| Harry Addis | 2013 | Men's Captain |
| Joe Fegan | 2013 | President |
| Shane Fegan | 2014 | Men's Captain |
| Joe Fegan | 2014 | President |
| Des Carson | 2015 | Men's Captain |
| Joe Fegan | 2015 | President |
| Brendan Scullion | 2016 | Men's Captain |
| Joe Fegan | 2016 | President |
| | 2017 | Men's Captain |
| Joe Fegan | 2017 | President |
| Gerard McCarthy | 2018 | Men's Captain |
| Joe Fegan | 2018 | President |
| | 2019 | Men's Captain |
| | 2019 | President |
| | 2019 | Lowest Men's H'cap |
Holes in One at Mayobridge
| | | | | |
| --- | --- | --- | --- | --- |
| Member | Date | Hole No. | Club Used | Distance |
| Gerald McCarthy | 15 November 2009 | 6th | | 120 yd's |